Punta Cana ⎜ Punta Cana Attractions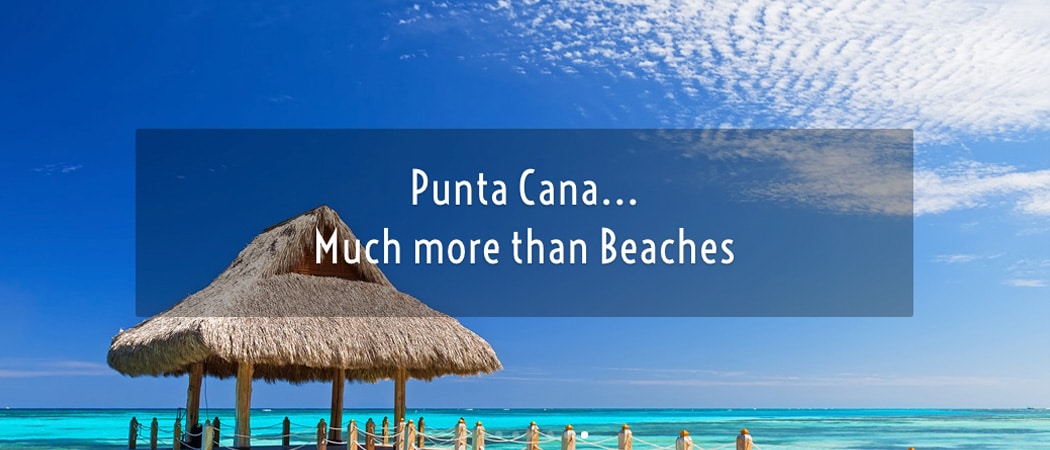 You've heard of Punta Cana's mesmeric beaches, stunning golf courses, and world-class all-inclusive resorts, making it the most visited destination in the Caribbean…but this place offers so much more.  When you take a look at Punta Cana's natural attractions, adventure parks, cultural experiences and a long list of fun things to do, there's no denying it truly is… The Caribbean Wonderland.
Although you may be tempted to stay around the property, we encourage you to get to know the treasures of the Dominican Republic, once you do, you'll come to expect so much more from a Caribbean vacation, that you may just join the many travelers that keep on coming back year after year in order to enjoy it all.  We encourage you to leave the resort property for a few hours or full-day adventure, you'll have a richer vacation experience allowing you to connect with the people, their warm culture, bewitching natural treasures of the country and fun activities created just for you and your travel companions.
Natural Attractions
Punta Cana, Dominican Republic
Beaches of Punta Cana, DR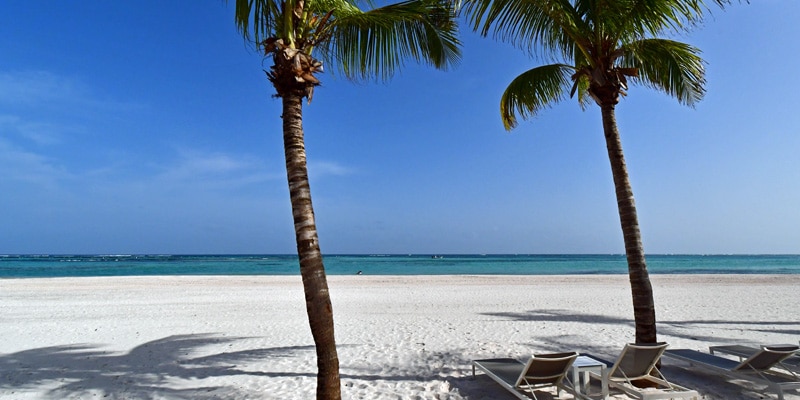 + Beaches in Punta Cana
The tourist region commonly known as Punta Cana attracts travelers from all over the world seeking for the perfect Caribbean tropical getaway.  The bewitching beaches of Punta Cana certainly sets the stage for a Caribbean wonderland with picture perfect beaches from shallow and calm, to beaches with exciting playful waves.  The shore is perfectly landscaped with coconut groves, lounge chairs inviting guests to relax, watersports to re-ignite the playful side, under the year long warmth of the Dominican sun.  For maximum enjoyment of the beach, chooose from dozens of beachfront resorts and hotels from luxurious to family friendly.
Saona Island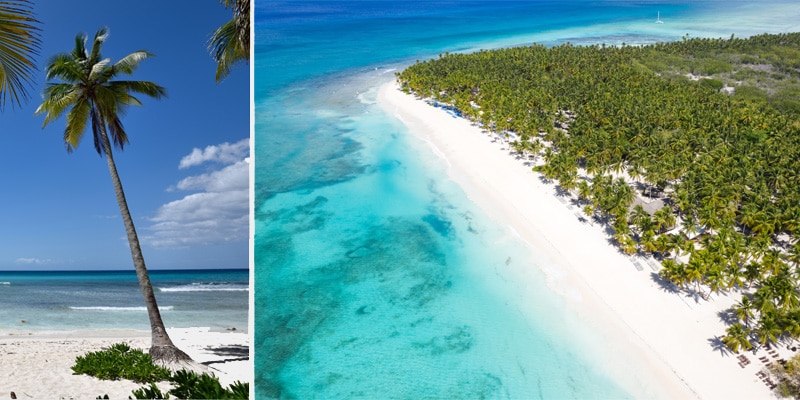 + Saona Island
As if the amazing beaches of Punta Cana were not enough to fulfill Caribbean dreams… you can take a day trip to secluded islands unspoiled by development, completely surrounded by the seductive waters of the Caribbean Sea.  The island of Saona is like a dream, where you can spend the day swimming in shallow crystal clear water, lounging on magazine worth spots, or snorkeling for hours on water that feels like a giant aquarium.  Tour companies offer day trips to Saona Island from catamaran party boats to more intimate trips for couples and small groups. + Saona Island, Dominican Republic
Cenotes & Lagoons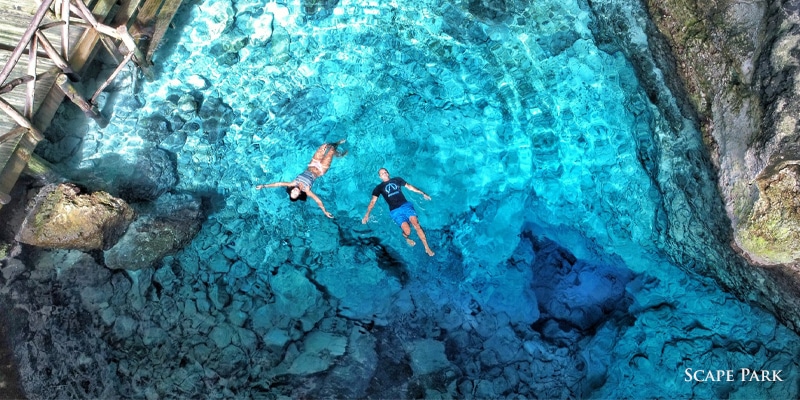 + Cenotes & Lagoons - Punta Cana
We know  you'll need some convincing  to get away from the beaches, but you simply can't miss visiting at least one of the cenotes or lagoons in the Punta Cana region, just the mere sight will take your breath away.  On a hot summer day, the cenotes and lagoons offer the most refreshing cool water of the region.   These magical bodies of water are inside Cap Cana and Punta Cana Resort & Club, you may visit the cenotes and lagoons on a tour offered by a private charter or purchase a day pass at the resorts.  
Indigenous Eyes Ecological Park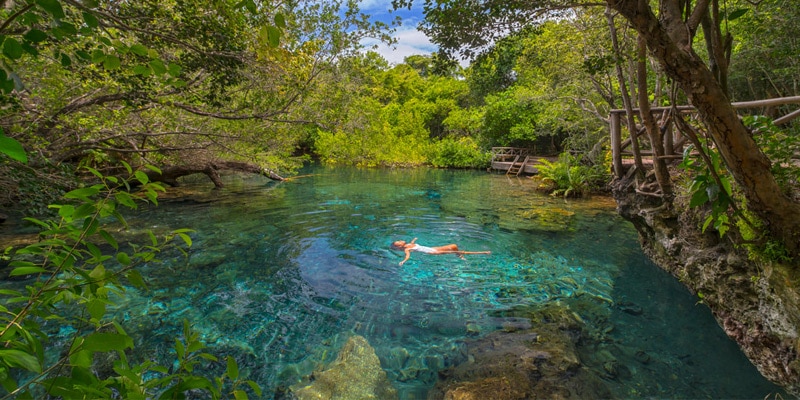 + Indigenous Eyes Ecological Park
Cotubanama National Park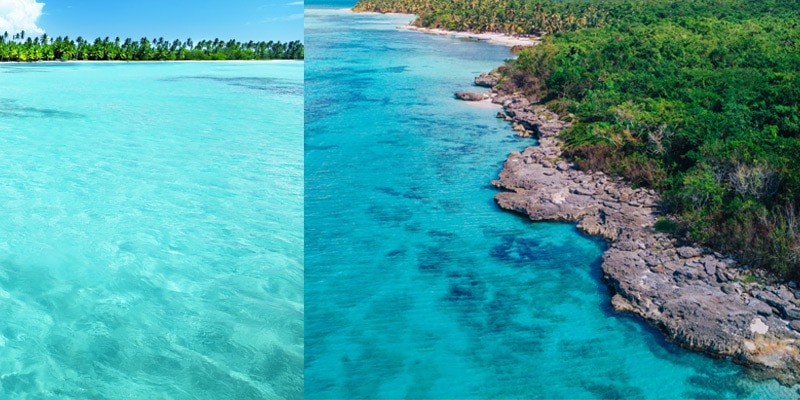 + Cotubanama National Park
Parque Nacional Cotubanamá (Cotubanama National Park) is one of the most precious natural treasures on the east coast of the Dominican Republic and one of the most popular tourist attractions for visitors.  The park was previously named Parque Nacional del Este (East National Park).  Cotubanama National Park was added to UNESCO's Tentative List in 2018 under criteria I, II, III, for its historical and archaeological value.
The park include Saona and Catalina Islands.   One of the most visited sites of the Cotubanama is the Catuano Strait best known as "The Natural Pool".  As the name implies The Natural Pool is a gigantic natural pool with aquamarine water as clear as glass where catamarans and sailboats bring visitors seeking to experience the pleasures of a true Caribbean paradise for a time swimming, snorkeling and walking on a natural aquarium. The shipwrecks underwater are popular diving sites. 
Cotubanama National Park has hiking trails from Bayahibe leading to a number of caves with more than 1,500 pictographs and 378 petroglyps.  Trails allow visitors to appreciate the forest with over 500 flora species, beaches, inlets, underwater marine life such as manatees, dolphins, sea turtles and fauna including hundreds of bird species. 
Most popular activies are hiking, snorkeling and horseback riding. 
Soures: UNESCO
Dolphin Explorer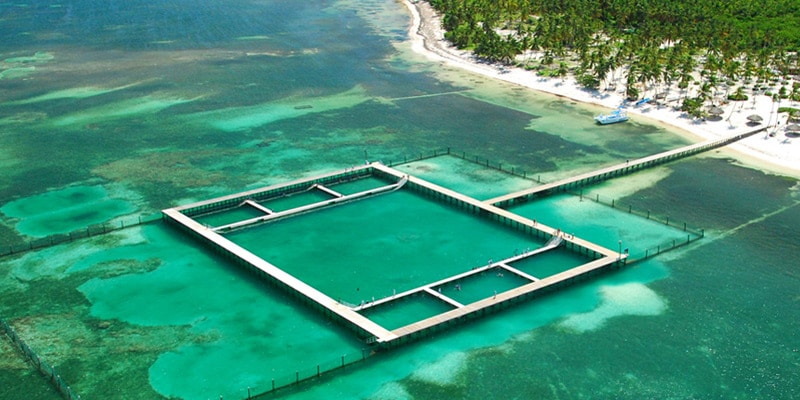 + Dolphin Explorer
Just offshore from Cabeza del Toro, you can spend a few hours swimming with dolphins and interacting with these beautiful creatures.  In addition to dolphins get close to sea lions, stingrays, sharks and tropical birds. 
Contact Information
Tel: +1-809-468-2000
Address: Carretera Cabeza de Toro, Punta Cana 23000
Seaquarium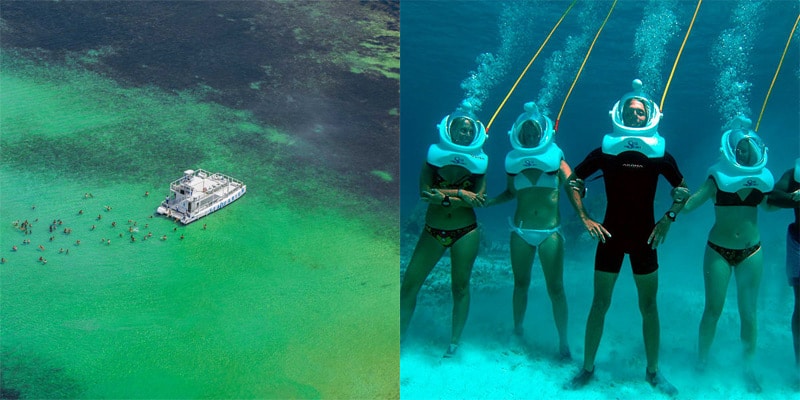 + Seaquarium
Ever wanted to scuba dive but don't know how?   Seaquarium is a natural aquarium where you can enjoy underwater with snuba gear.  Fun experience for the whole family where you'll be walking on the seafloor to visit the home of colorful tropical fish, nurse sharks, stingrays, and beautiful dolphins and also snorkel around a submarine shipwreck.
A catamaran will take you on a cruise along the breathtaking Punta Cana coastline, some tours offer delicious lunch and drinks onboard.  You can also choose a party boat so you can dance your way to Seaquarium.
Most tours meet at Bibijagua (Bavaro).
Contact Information
Dolphin Island Park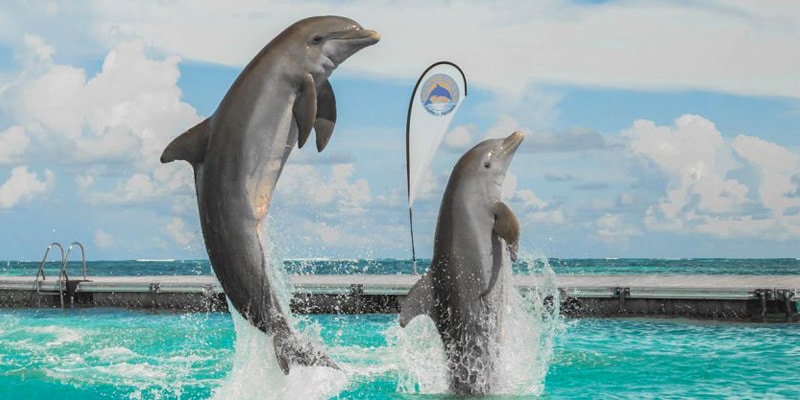 + Dolphin Island Park
A boat ride over the clear water of Bavaro and just past the coral reef you can swim with dolphins, sharks, sea lions and stingrays.
Contact Information
Tel: 1-809-221-9444
Hours: Daily 9am – 6pm
Adventure Parks
Punta Cana, Dominican Republic
Adventure Parks in Punta Cana follow the All-Inclusive theme offering visitors a number of activities and experiences the entire family will be raving about.   Most of the adventure parks offer packages where you can choose the activities that most appeal to the family and fits your vacation budget.  Among the activities at adventure parks include: ziplining, buggy / ATV tours, horseback riding, BMX tracks, flight simulators, eco tours, cave exploration and much more.
​Bavaro Adventure Park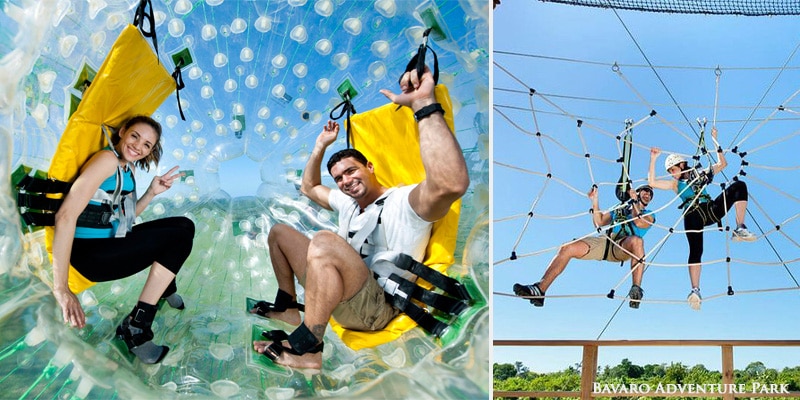 + Bavaro Adventure Park
Located off the main highway in Bavaro, Bavaro Adventure Park is a wonderful place not too far from the beach where you can spend a day with the entire family and have many experiences in 110 acres of natural beauty offering over 15 fun activities.  If you're a fan of Jurassic Park Movies, don't miss this park.
Highlights of Bavaro Adventure Park 
Dino World – small ones will enjoy observing 20 animatronic dinosaurs in lush gardens.
Zipline Skywalker Regular
Zipline Mega Splash
Zipline Skywalker Pro
Zipline Splash
Zorbing Downhill Revolution
Horse Back Riding
Bungee Trampoline
Segway circuit
Climbing garden
Paintball
Mountain biking
ATV / Buggy / Polaris tours
Flight Simulators
Segway X-treme Driver
Waterfall Pool
Eco Tour
Playground
Contact Information
Hours: 8:30am – 6:30pm Daily
Address:
Bulevar Turístico del Este
Bávaro, La Altagracia, Dominican Republic
Tel: +1 809-933-3040
Monkeyland / Runners Adventures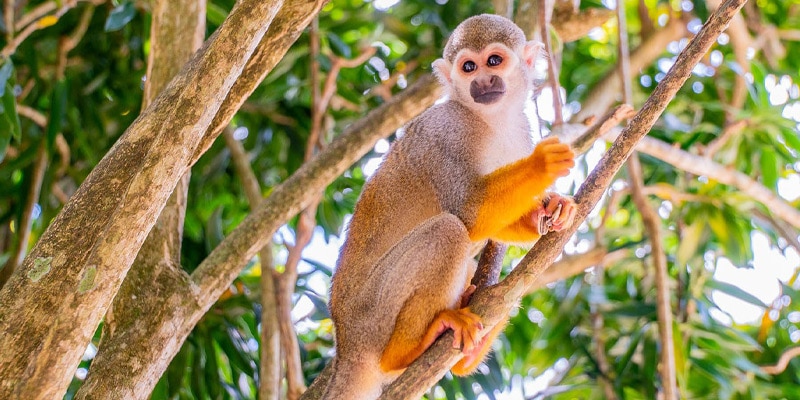 + Monkeyland
Monkeyland is one of the most loved attractions for families, offering a number of ecotourism experiences and fun activities.  Get ready to fall in love with the cutest and friendliest squirrel monkeys, they welcome you to their countryside home located just outside of Punta Cana, trained to mingle and get close to humans.
Monkeyland also offers nice cultural experiences where you can see demonstrations of how Dominicans live in the countryside and grow food.  You'll get to taste delicious fresh roasted coffee and cocoa.
Runners Adventures also offer Jungle Buggies Adventures and Ziplining. 
Contact Information
Tel: +1-888-280-5842 (Toll Free) / +1-809-455-1135 /  +1-829-599-7444
Address:
Bavaro KM 2 1/2, Carretera
Punta Cana, Dominican Republic 23000
Canopy Adventures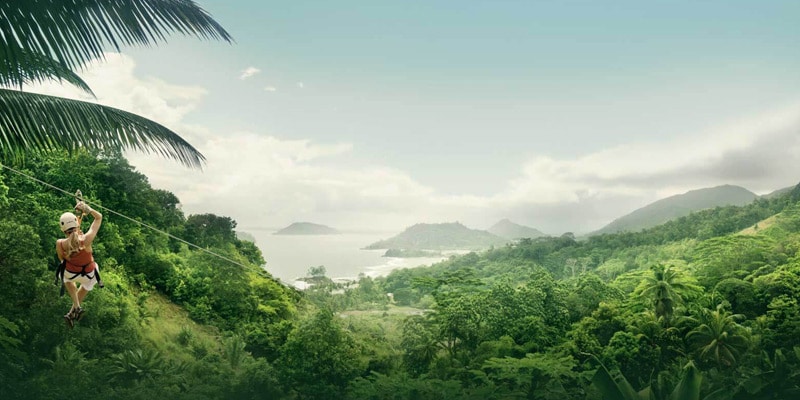 + Canopy Adventures
 Up in the Anamuya jungle, visitors can zipline totaling 4,300 feet through lush natural setting.  Canopy Adventures also features "Extreme Swing Adventure".  The park is about 50 minutes from the resort areas in Punta Cana. 
Contact Information
Scape Park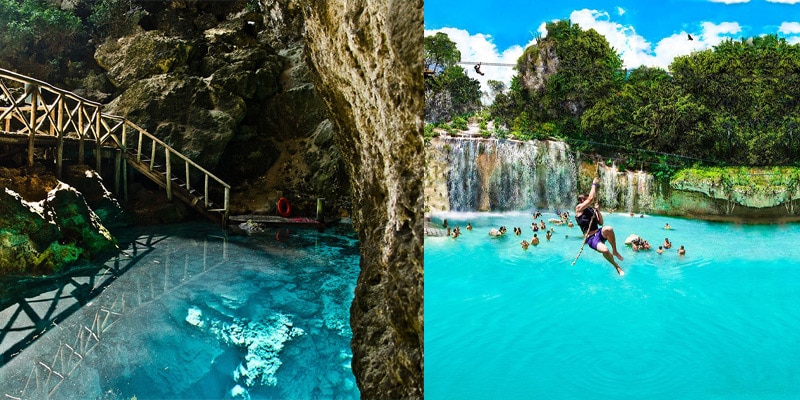 + Scape Park
Scape Park is one of the most popular places to visit in Punta Cana.   Scape Park is located in Cap Cana, just 15 minutes from the Punta Cana Airport.   There are a number of activities and attractions to fill an entire day.  Scape Park is the perfect mix of nature, fun, cultural experiences, sun, sand and luxury.  Scape Park offers various packages. See link below with brochure and booking information.
Highlights of Scape Park
Saltos Azules
Zip Line Eco Splash
Hoyo Azul
Iguabonita Cave
Cultural Route
Beach Getaway at Juanillo Beach
El Rancho
Iguana Land
Parrots Island
Cave Swim
Monkey Islands
Sunshine Cruise
Contact Information
Address
Avenida Sarasota No.20,
Torre Empresarial AIRD, Suite 3-E,
Santo Domingo, República Dominicana
Tel: +1 809-469-7484  /   +1-809-200-0398
Aqua Park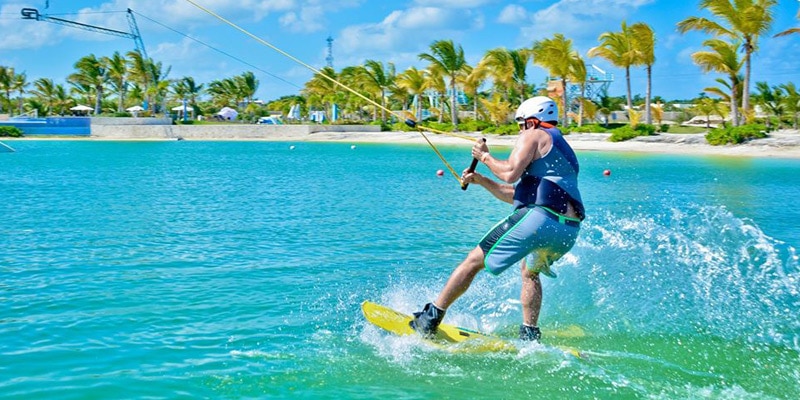 + Aqua Park
Aqua Park is not your typical waterpark, offering a variety of fun and challenging activities on the water for children and adults.  The Play Lake is a lot of fun, sure to keep the kids playing for hours.  For those that wish to relax, Aqua Park has a relaxing infinity pool.  Aqua Park is conveniently located in Downtown Punta Cana near many resorts.  The facilities are clean and the staff is super friendly.   
Highlights
Play Lake
Zipline over the lake
Paddleboarding
Tight Rope – Fun activity for the whole family where you can test your balance on a rope over the water.
Blob Catapult – Jump off a platform onto a large inflatable over the water.
Blue Monster – A fun obstacle course on a giant inflatable over the water.
Wake Lake
Kneeboarding
Slalom skiing
Wakeboarding
Lake 2.0
Wakeboarding classes
Donut Ride
Land & Fun
Restaurant
Table Games
Beach Games
Packages
Packages available from $75.
Transportation included with some packages.
Contact Information
E-Mail: reservaciones@aquaparkdr.com or info@aquaparkdr.com
Tel: (829) 521-3562
Address: See map at the end of the page.
Hours of Operation
AquaPark is open Monday through Sunday 11:00 to 18:00
Historical Attractions
Punta Cana, Dominican Republic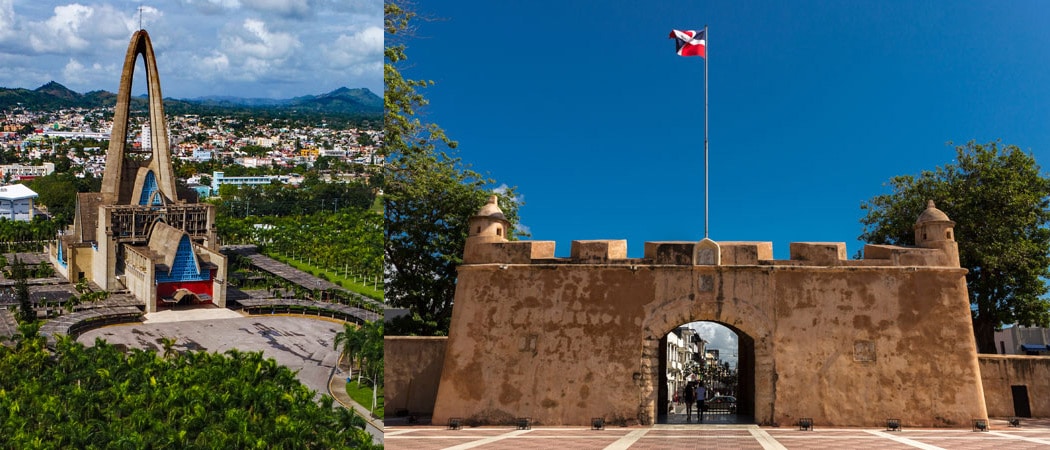 Rent a car or book a tour to visit the most significant historical sights near Punta Cana.  In Higuey you can visit the most impressive monument, Basílica Catedral Nuestra Señora de la Altagracia.  Two hours away you can visit Santo Domingo, the capital of the Dominican Republic where you explore the historic district with a number of museums and attractions.  Altos de Chavon is a wonderful day trip with a variety of activities and sights.
See our Top Five Daytrips from Punta Cana for more information on historical attractions you can visit duringy our stay.
Museums & Cultural Attractions
Punta Cana, Dominican Republic
ChocoMuseo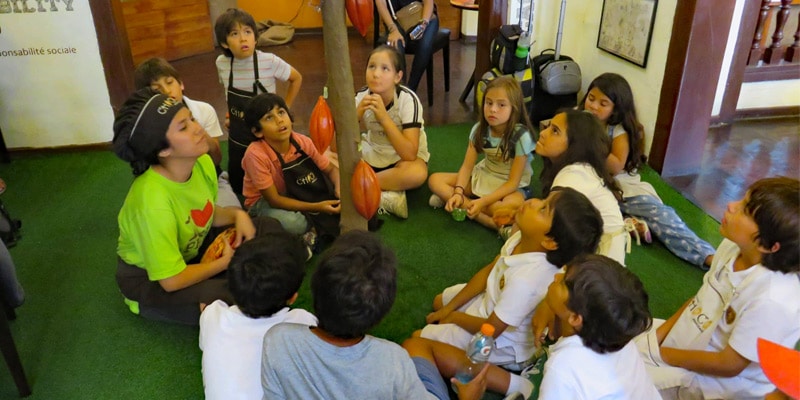 + ChocoMuseo
Head to the shopping Mundo Autentico shopping center and stop at ChocoMuseo where you can learn about the chocolate-making process and eat some delicious chocolate.  The entrance to the museum is free.  You can also book a workshop where you can make your own chocolate, the kids will love it.
Contact Information
Tel: +1-809-795-0254
Address: Km. 6.4, Avenida Barcelo – Punta Cana, Dominican Republic
E-Mail: PuntaCana@ChocoMuseo.com
Museo de la Altagracia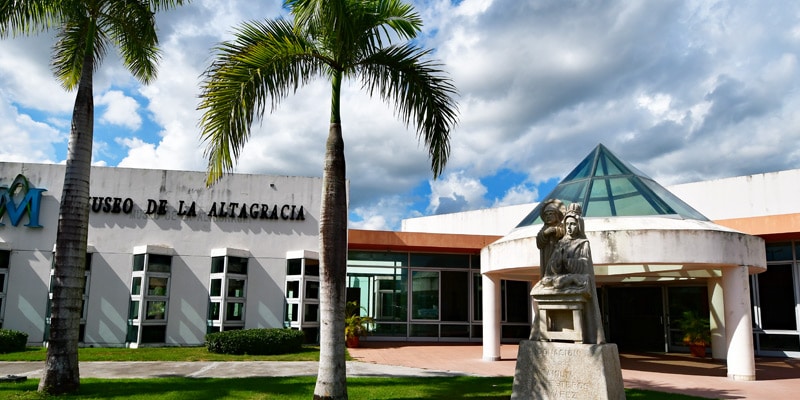 + Museo de la Altagracia
About an hour from Punta Cana, you can head to Higuey for a day trip to Basílica Catedral Nuestra Señora de La Altagracia.  On the grounds, you can visit La Altagracia Museum.  The museum holds exhibits of the history of the religion of the Dominican Republic, and a collection of religious jewelry and paintings that goes back to the 17th century. 
Contact Information
Tel: +1-809-554-2748
Address: 105, Higüey, Dominican Republic 23000
Hours: Tuesdays – Saturdays 8:30 am – 5:00 pm, Sundays 9:00 am – 5:00 pm, Mondays Closed
Don Lucas Cigars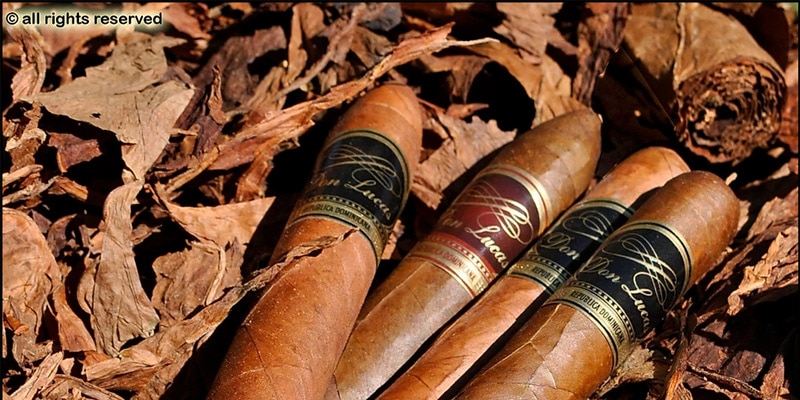 + Don Lucas Cigars
While visiting Mundo Autentico Shopping Center be sure to add Don Lucas Cigars to your itinerary along with ChocoMuseo.  While at Don Lucas Cigars you can learn about the cigar-making process and sample the varieties.  In addition to cigars, you can taste rum and the delicious Dominican cocoa.
Contact Information
Tel: +1-809-466.1212 / +1-809-844-3952
Address: Bavaro, Punta Cana
E-Mail: donlucascigars@hotmail.com