Higuey is the city of Altagracia Province, just 45 minutes from Punta Cana, you can visit one of the most recognized and visited cathedrals in the Caribbean, a religious museum, an artisan market, and a farmer's market.  As you tour around Higuey, you'll be driving through the communities where most employees of resorts in the Punta Cana Tourist Region reside.
Top Things to Do in Higuey
La Altagracia, Dominican Republic
Visit Basílica Catedral Nuestra Señora de la Altagracia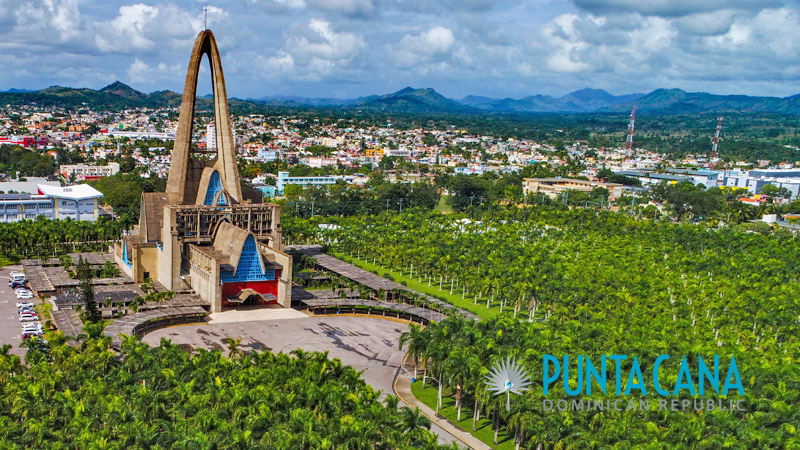 In this very busy small city where it seems impossible to drive and cross the street, you can find quiet, solemn spaces on the beautiful grounds and inside the Basílica Catedral Nuestra Señora de la Altagracia, one of the most visited cathedrals in the country by Catholics and visitors alike.
Thousands of visitors from around the country come to the annual pilgrimages held on January 21st.
The basilica was inaugurated in 1971, built to replace a sanctuary where there was a sighting of La Altagracia.
The cathedral is the seat of the Roman Catholic Diocese of Nuestra Señora de la Altagracia, the Basilica was built in her honor.
Basílica Catedral Nuestra Señora de la Altagracia was designed by French architects André-Jacques Dunoyer de Segonzac y Pierre Dupré.   
Museo (Museum) de la Altagracia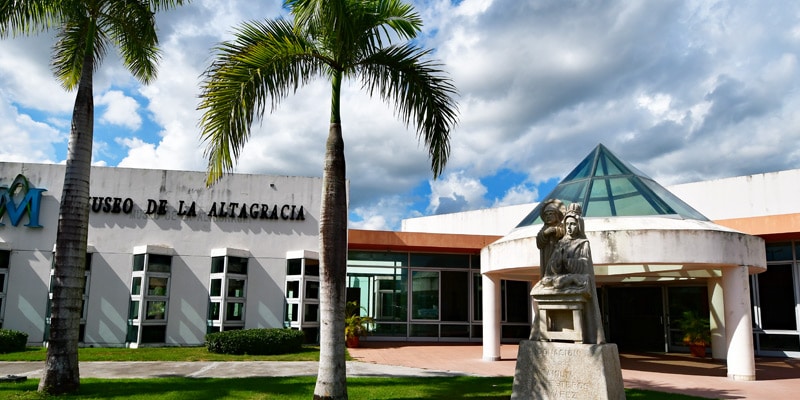 In the vicinity of the cathedral, you can visit La Altagracia Museum.  The museum holds exhibits of the history of the religion of the Dominican Republic and a collection of religious jewelry and paintings that goes back to the 17th century.
(Subject to change, please call to confirm)
Hours:

 

Tuesdays – Saturdays 8:30 am – 5:00 pm, Sundays 9:00 am – 5:00 pm, Mondays Closed
Tel:

 

+1-809-554-2748
Address:

 

105, Higüey, Dominican Republic 23000
A great way to support the locals is by strolling through the artisan market (Plaza Higüeyana) and making a purchase.
Higuey is about a 45-minute drive from Punta Cana.  You can choose to rent a car for the day and drive yourself or book a guided tour from Punta Cana.  If you're traveling with a group, a car rental is the most cost-effective option and great for adventurers who may wish to get a little more out of their day.  There are a number of tours available that take care of all the details so you can enjoy your day without worries so you can simply enjoy the experience, see below for online booking tour options.
Driving in Higuey – The streets are really busy, visitors coming from the United States, Canada, Europe, and more developed countries may find driving stressful due to the lack of organized traffic, with motorcycles driving in all directions, where traffic lights and stop signs seem to be an optional rule.  If you choose to drive into Higuey with a car rental, be sure to be extra alert and take the additional car rental insurance just in case.
Best place to park – Use Google Maps to Basílica Catedral Nuestra Señora de la Altagracia, and park at the Museum parking lot.  From there you can walk to the cathedral and later cross the street to visit the artisan market.
Map - Attractions to Visit in Higuey
Punta Cana, La Altagracia, Dominican Republic