Juanillo Beach, one of the most idyllic and most beautiful beaches in the tourist region of Punta Cana, on the Caribbean Sea side of the southeast coast of the Dominican Republic.
Start planning your Punta Cana vacation, and allow the mesmerizing Juanillo to fulfill that tropical dream. The sand is carefully cleaned every morning, to show off the sparkling soft white sand that glistens with the sun.  Juanillo Beach is long, exclusive, and never crowded, perfect for romantic barefoot walks along the Caribbean Sea.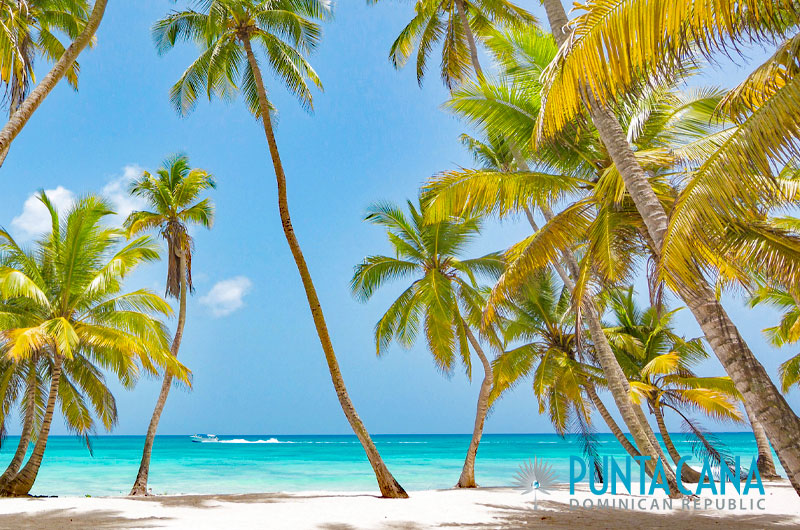 The water is calm and shallow, perfect for swimming and wading.  The beach is wide with plenty of shaded spots and lounging areas.  Juanillo has two sides, relaxing and mellow during the week and lively during weekends with live music and events for the whole family to enjoy.
There are a number of resorts to choose from in Cap Cana from luxury to family fun (see below for listings).
Dining at Juanillo Beach – Cap Cana
Juanillo is not only known for its beauty, while here you can dine at Little John, one of the best restaurants in all of Punta Cana with superb service.  Eat at the beachside restaurant or have their friendly staff pamper you with service at one of the gazebos by the beach.
Access to Juanillo Beach, Cap Cana
Although Juanillo Beach can be best enjoyed by staying at one of the resorts inside Cap Cana, it is open to the public, in order to enter you'll need to say you're visiting Juanillo Beach at the security gate, bring your ID and be prepared to leave it with the guard.
Best Beachfront Resorts in Juanillo Beach
Cap Cana, Punta Cana, Dominican Republic
The resorts on Juanillo Beach are among the best in Punta Cana, offering luxurious accommodations.  There are three wonderful adults-only resorts.  Hyatt Ziva Cap Cana designed for families features a water park with access to the resort next door.  Cap Cana is home to Punta Espada, an award-winning world-class golf course, any of the resorts below offer guests the best access.
Family Resort - Juanillo Beach
Cap Cana, Punta Cana, Dominican Republic
Adults - Only Resorts in Juanillo Beach
Cap Cana, Punta Cana, Dominican Republic
Top Tours to Juanillo Beach & Cap Cana
Punta Cana, Dominican Republic
Photo Gallery
Juanillo Beach - Cap Cana - Dominican Republic
Map - Playa Juanillo & Best Beachfront Resorts
Cap Cana, Punta Cana, Dominican Republic