Punta Cana  〉Things to Do in Punta Cana  〉Best Beaches in Punta Cana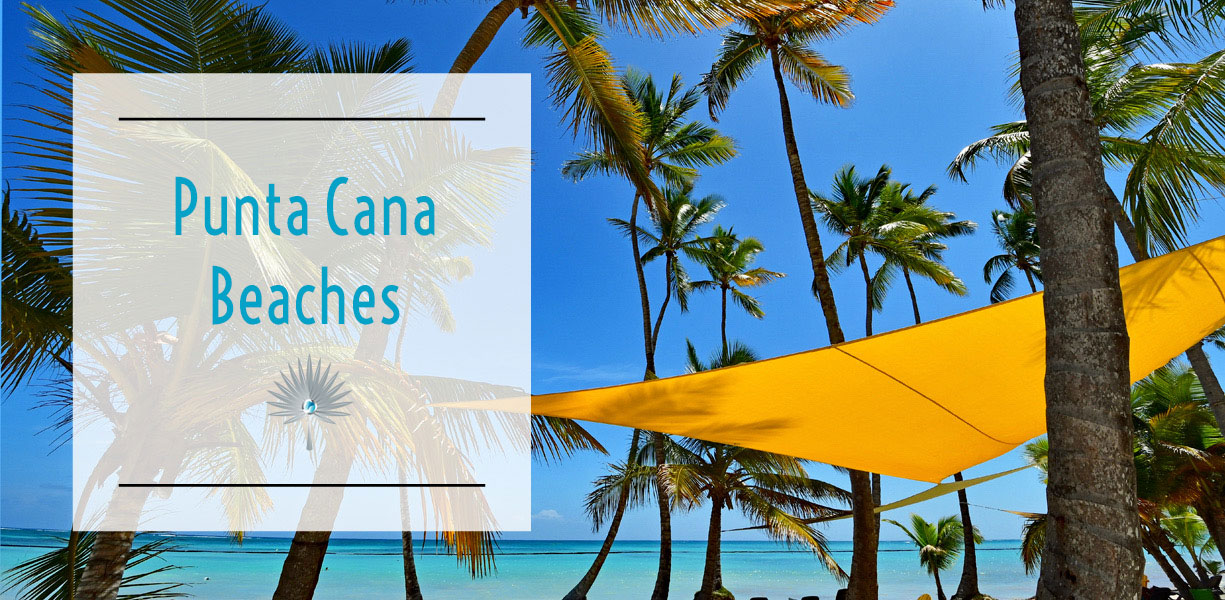 Three beaches are in the spotlight because thousands of travelers like you rated them so highly, placing them on the coveted lists of "Best Beaches in the Caribbean" & one of them on "Top 25 Best Beaches in the World".
The beaches of Punta Cana follow the all-inclusive theme, they have it all.  Whether you crave a quiet and relaxing beach experience, full days of adventures on the water, or a pampering luxurious beach escape, Punta Cana exceeds expectations.  Punta Cana, nicknamed The Coconut Coast offers 30 miles of beaches, sit back, relax and allow us to introduce you to the best beaches in Punta Cana.  Come to Punta Cana and earn bragging rights to have visited some of the best beaches in the world.
Following we introduce you to what we call The Perfect Seven, each representing a quality that describes Punta Cana and meets a specific travel wish.
Which are the Best Beaches in Punta Cana? 
From Intimate to Playful, Punta Cana has the Perfect Beach for You
While some beaches have similarities, a few of the beaches in Punta Cana have their own personality and vibe.  Some beaches have more wave action perfect for those that enjoy more active water sports, while some beaches have calm, shallow waters perfect for swimming and more relaxed activities.   A few beaches attract more crowds offering a more lively scene while others attract visitors seeking a quiet and more exclusive beach vacation.
Even though Punta Cana is the #1 Caribbean destination, it doesn't mean crowded beaches and a lack of natural landscapes.  One of the best planning decisions in the Dominican Republic was requiring that all buildings are not much taller than palm trees so resorts blend into the landscape, making Punta Cana one of the most attractive beachfront resort communities.  Beachcombers and romantics will have plenty of space to take long walks on the beach for a relaxing and uplifting experience.
Bavaro Beach, perfectly offers the All-Inclusive Caribbean Wonderland Promise of Punta Cana…  Bavaro has it all; beauty, fun, relaxation, and adventure under the Caribbean Sun.
We love Bavaro Beach, and so does the rest of the world…
#19 on "Top 25 Best Beaches in the World", tens of thousands of travelers like you reviewed their experience, placing it on TripAdvisor's Traveler's Choice Best of the Best 2020 Award.
#8 on "Best Beaches in the Caribbean", a second TripAdvisor's Traveler's Choice Best of the Best 2020 Award.
Allow us to tell you all the reasons why Bavaro earns the #1 spot in our "Perfect Seven" for "Best Beaches in Punta Cana".
The water… looks like a living canvas that plays with the sun giving those seeking for beach therapy a healthy dose of Caribbean Chromotherapy from turquoise to emerald greens to cerulean blues that gently lap on the soft white sand.
Although Bavaro is a busy beachfront resort community, there's plenty of space, lounge chairs, palm trees, and natural Dominican palapa umbrellas to lounge and relax.  The beach is long, even in high season, it doesn't feel crowded while lounging on the sand or enjoying the water.
With so many amazing beachfront resorts to choose from, travelers can choose from luxurious resorts to budget-friendly resorts without sacrificing quality and hospitality.  Most of the resorts in Bavaro Beach include a number of activities on the resort as well as water activities.  Right off the shores of Bavaro Beach, guests can go on a number of amazing tours.
For those that love taking walks on the beach, Bavaro is an excellent choice, where you can walk for miles on its soft white sand, stop for refreshing drinks, do a little shopping or venture out for an offshore tour.
Macao Beach – Natural & Relaxed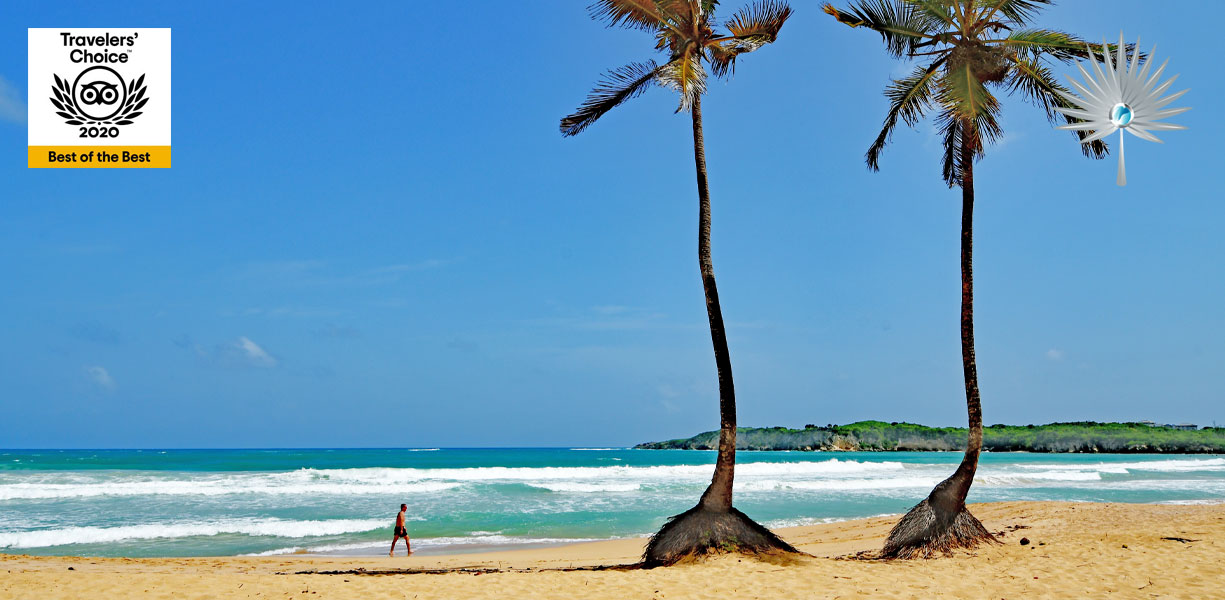 Visiting Macao is a pleasurable activity for those that long for a day at the beach free of crowds and wishing to experience the beach in a more natural setting free of development.  Macao Beach is a protected natural resource in the Dominican Republic, so special UNESCO praised Macao as one of the most beautiful beaches in the Caribbean.  Travelers have written so many positive reviews, it earned the 20th spot on the coveted list of "Best Beaches in the Caribbean 2020" by TripAdvisor's Traveler's Choice Best of the Best.
While most Punta Cana travelers stay at the beach in their resort, a few ventures out to Macao to enjoy a long walk and simply take in the simplicity of island life by the sea.  At Macao, you'll find a few beachside huts selling fresh fried fish, and a few simple laid back bars.  Various tours offering buggy / ATV rides, make a stop at Macao Beach making it one of the highlights of the trip.
Macao Beach is relaxing and mellow, but not free of action.  Surfers bring their boards and step off the sand to ride the waves.  The best time for surfing is during the winter months.  Don't know how to surf and always wanted to learn?  Head to Macao Beach, home to a few shops with friendly instructors ready to teach you safely.
Up until a year ago, there was not a single resort or hotel at this beach, this year Dreams Macao Beach Punta Cana Resort opened its doors to visitors, offering guests the pleasure of having Macao Beach almost to themselves.
More Amazing Beaches in Punta Cana
Dominican Republic
Juanillo Beach – Mesmerizing Landscape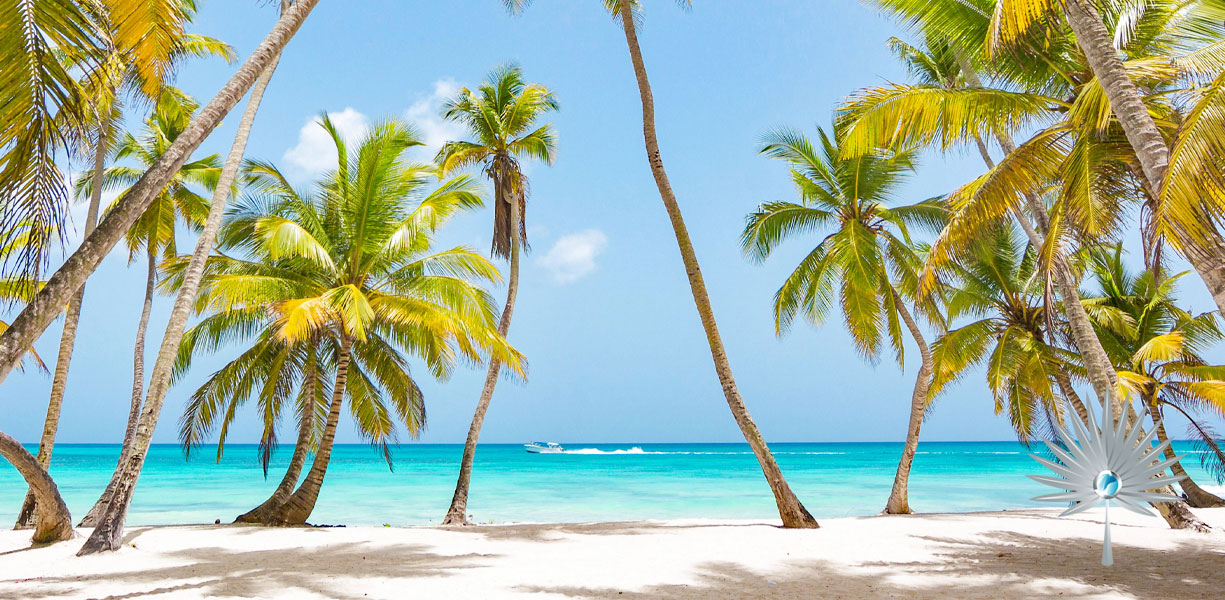 Through the gate of Cap Cana, an upscale resort and residential community, you'll find the mesmerizing Juanillo Beach.  Calm turquoise water, the meticulously clean sparkling white sand, and those palm trees…  make Juanillo Beach one of the best beaches in Punta Cana for its striking paradisiac landscape.  Back to the palm trees… the landscape is that scene you may have seen on a Corona commercial, tall mature palm trees that graciously move to the Caribbean Sea breeze, baby ones reaching towards the sun, leaning palm trees creating that dreamy paradisiacal scene.  The water at Juanillo is calm and shallow, in shades from clear glass to turquoise hues, a feast of soothing colors to your eyes.
Juanillo is not only known for its beauty, while here you can dine at Little John, one of the best restaurants in all of Punta Cana with superb service.  Eat at the beachside restaurant or have their friendly staff serve to pamper you with service at one of the gazebos by the beach.
Although Juanillo Beach can be best enjoyed by staying at one of the resorts inside Cap Cana, it is open to the public, in order to enter you'll need to say you're visiting Juanillo Beach at the security gate, bring your ID and be prepared to leave it with the guard.
Juanillo Beach was ranked #8 on "25 Best Beaches in the Caribbean 2020" by Islands.com
Playa Blanca, the name of the beach and the on-site restaurant will certainly be unforgettable after you spend a day.  Playa Blanca's name translates to "White Beach", perhaps for its sparkling white sand or for the white full moon that rises over the water as you enjoy a romantic dinner at the amazing beachfront restaurant.  Whatever the reason may be, the romantic setting, delicious food, friendly service, and wonderful facilities are so perfect you won't forget its name. You can choose to stay at one of the resorts or home rentals inside Punta Cana Resort & Club for the ultimate enjoyment of Playa Blanca.  Visitors can get a day pass at the Visitor Center, during high season you'll have to pay a fee which is applied to a credit at the restaurant.
Play at Playa Blanca – Families with small children will enjoy the seaside playground and shallow waters safe for swimming.  Play beach volleyball and enjoy various watersports, rental equipment is available at the beach.
Relax at Playa Blanca – Grab a front-row seat to paradise, bring a book and take a nap on shaded spots by umbrellas or palm trees.
Dine at Playa Blanca – We love the menu at Playa Blanca Restaurant, dine at the seaside restaurant, or just order as you lounge at the beach with your feet on the sand.  Ask for their coconut creamy dessert, it tastes like paradise.
Caleton Beach @ Eden Roc Cap Cana – Intimate & Luxurious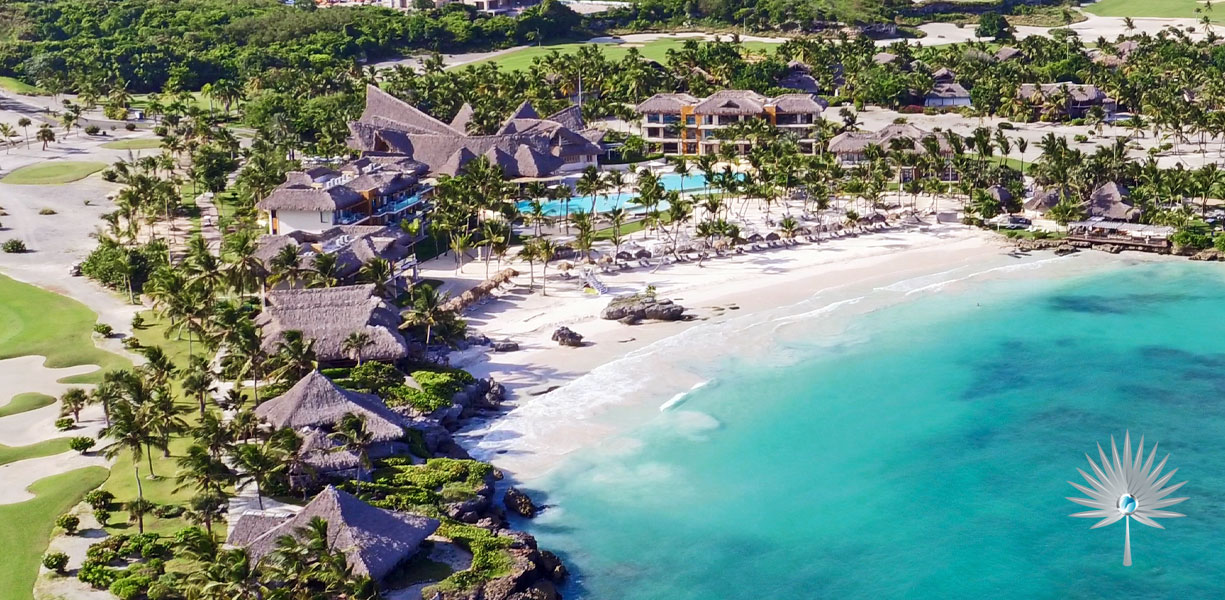 Caleton Beach is one of the most exclusive beaches in the Punta Cana tourist region, just 10 – 15 minutes from the Punta Cana International Airport,  inside the upscale resort community of Cap Cana.  Caleton Beach is for those seeking an intimate romantic beach vacation with luxurious accommodations.  To enjoy Caleton Beach, you must stay at Eden Roc Cap Cana, an elegant golf resort with Spanish colonial architecture offering spacious villas serenaded by the sea.
No need to leave the beach for a fine meal, Caleton Beach Club offers two restaurants; La Palapa a seaside restaurant serving lunch and dinner, and Blue Grill & Bar.  Just steps from Caleton Beach guests can enjoy an infinity pool, the Solaya Fitness & Wellness Spa, and be serviced by exclusive beach butlers.
Uvero Alto is the last beach on the north coconut coast of Punta Cana, the beach is wide and the resorts set back behind a lush line of palm trees, so it never feels crowded.  Beachfront resorts along Uvero Alto are well spaced from each other, so you're practically only sharing the beach with guests from your resort.  Travelers seeking for adults-only resorts will have excellent options.  While Uvero Alto Beach makes it to our list for romance and natural landscape.  Uvero Alto Beach is perfect for those that love to take long walks on the beach, listen to the surf, go in the water for a quick dip, and enjoy active water sports.  Resorts have roped off areas for swimming, those that prefer calm water may be disappointed.  Keep walking north and you'll get to a lush, more rugged and natural Uvero Alto completely free of development.  An excellent resort choice for romantics is Zoetry Agua Punta Cana, constantly receiving praise and awards.
Playa Bibijagua, Punta Cana – Active & Fun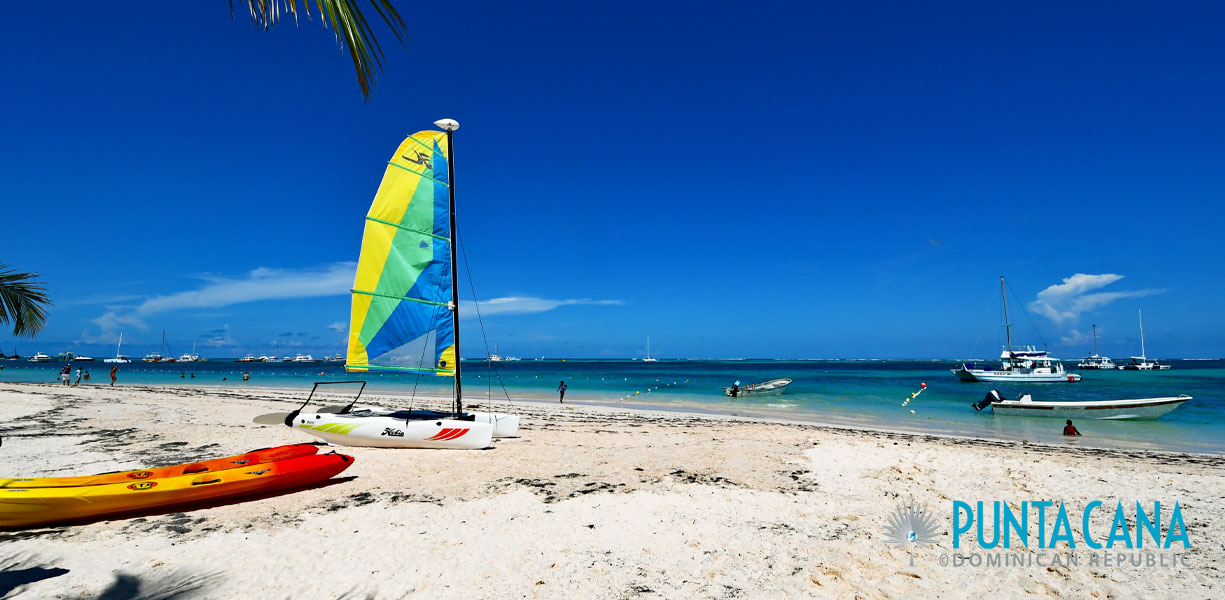 Bibijagua Beach, part of Bavaro, is one of the most easily accessed public beaches in Punta Cana, perfect for those that want an active day on the beach surrounded by music, people, shopping, and opportunities to meet locals.  At the entry of Bibijagua, you'll pass the Bibijagua artisan market, a popular shopping stop for tourists with a wide variety of traditional Dominican artisan crafts.  Bibijagua Beach has various popular dining options such as Jellyfish, casual beach bars, you can rent watersport equipment, and many tour companies have their shop/meeting place at Bibijagua.  You won't run out of things to do in Bibijagua, and most likely you'll make a friend.
More Recognitions for Beaches in Punta Cana 
The Dominican Republic – The Best Beaches in the Caribbean – By Frommer's
Playa Punta Cana – The Best Caribbean Beaches for 2020 – by LuxuryLink.com