See the full interactive airport map at end of the page…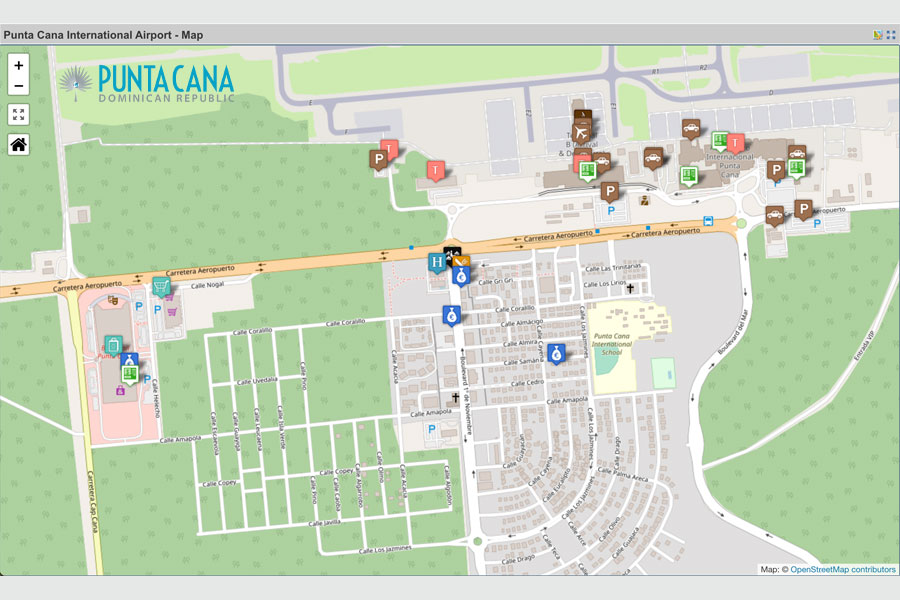 Top Rated Punta Cana Airport Transfer 
Welcome to the Happiest Airport in the Caribbean.   In addition to an interactive map of the Punta Cana International Airport, we have included information on places and services you may need upon your arrival in Punta Cana. 
Best Hotels & Resorts near the Punta Cana International Airport
Transfers from Punta Cana Airport to your Hotel
While there are plenty of taxis, prices can be quite high.  For convenience, comfort, and great rates, you may consider booking an airport transfer to your hotel, especially if you're traveling with family or a group of four or more.   See airport transfer guide.
Supermarkets near the Punta Cana International Airport
If you're staying at an apartment or villa rental, Supermercado Nacional is just a few minutes away from the Punta Cana Airport right next to the Blue Mall.  Nacional is a modern supermarket with everything you will need to stock up on your home away from home complete with a bakery and some prepared foods to make your first meal a breeze.
ATMs / Automatic Tellers / Cash Machines
It is good to have some cash with you during your stay in Punta Cana.  You may need it for taxis, purchasing souvenirs, or giving tips at local restaurants.  There are various ATMs at the airport for your convenience.  Outside the airport, the most convenient location is Blue Mall, where you'll find local banks and ATMs with the correct currency exchange rate.
Best Restaurants near the Airport
If you're arriving at the airport with an appetite, and wish to have a good meal, there are two great options just minutes from the airport.
The Blue Mall has a nice variety of places to eat from fine dining to pizzerias, cafes, and amazing fresh-made Dominican ice cream.  Enjoy casual options such as pizzerias, cafes, bakeries, and ice cream shops.  Bachata Rosa is one of the best restaurants in Punta Cana, there's a Hard Rock Cafe among others.
Punta Cana Village has nice options from local bistros to all American Fast food chains for a quick meal.
Map of Punta Cana Airport & Services
Punta Cana, La Altagracia, Dominican Republic