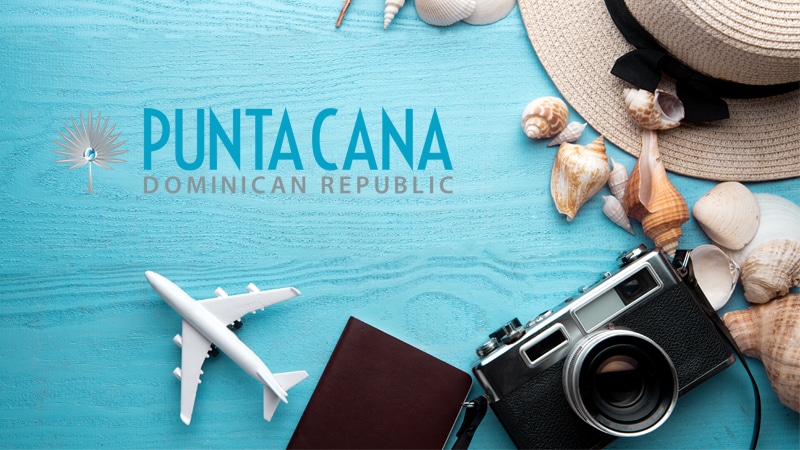 High Season  (December until the end of February) 
The weather is wonderful, the skies are almost always clear.  Residents of countries with cold winters escape to the Caribbean for the pleasures of tropical weather.  The high season is considered the best time to travel to Punta Cana as far as the weather is.
Crowds – During high season you'll see the most crowds on the beach, but don't worry, there are miles of beaches giving beachgoers plenty of room for relaxation.
Prices of hotels are also the highest, however, compared to other destinations in the Caribbean, Punta Cana remains the most attractive and competitive vacation spot, you'll find plenty of deals.
Shoulder (March – July)
March through July is not as busy, but just as wonderful, just hotter in the month of July.  Afternoon showers are common but short.  Easter week in April is very busy with visitors and residents of the country enjoying a beach vacation in Punta Cana.
Low Season  (August – November)
Pros:  Save Money on Rates.  Visitors can enjoy a great vacation at the lowest rates, many times offering savings up to half off the regular rate during the high season.
Cons: Risk of hurricanes, especially during the month of September.  If you travel during hurricane season, consider getting travel insurance just in case.
Hospitality in Punta Cana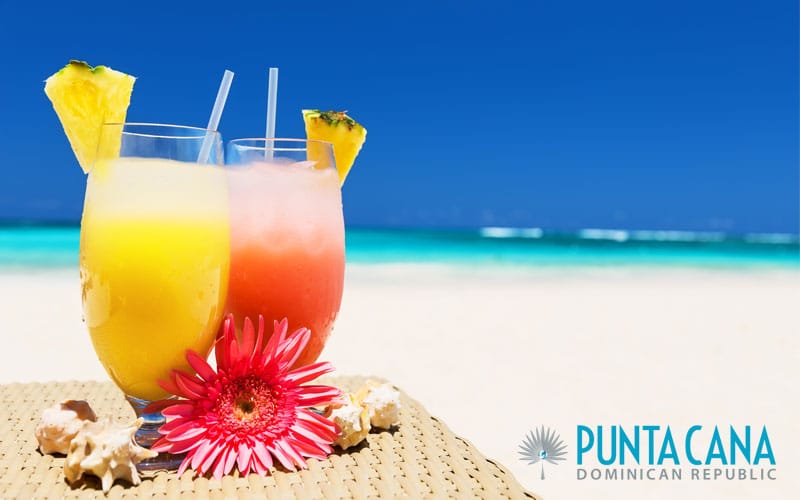 Punta Cana is perhaps the greatest and most successful branding story in tourism history, where hospitality is at the core of its values.  Tourism is the main source of employment for Dominicans in Punta Cana and nearby regions.  Many service workers at the resorts have long commutes in buses for pay that other countries consider very low, yet you'll see staff working with a genuine smile, a desire to serve, and going out of their way to satisfy the needs of the guests.  Dominicans are some of the happiest people you'll ever meet.  If you wish to reward exceptional service, feel free to give them a tip, they will appreciate it very much and will remember you for the entire stay.
Currency of Dominican Republic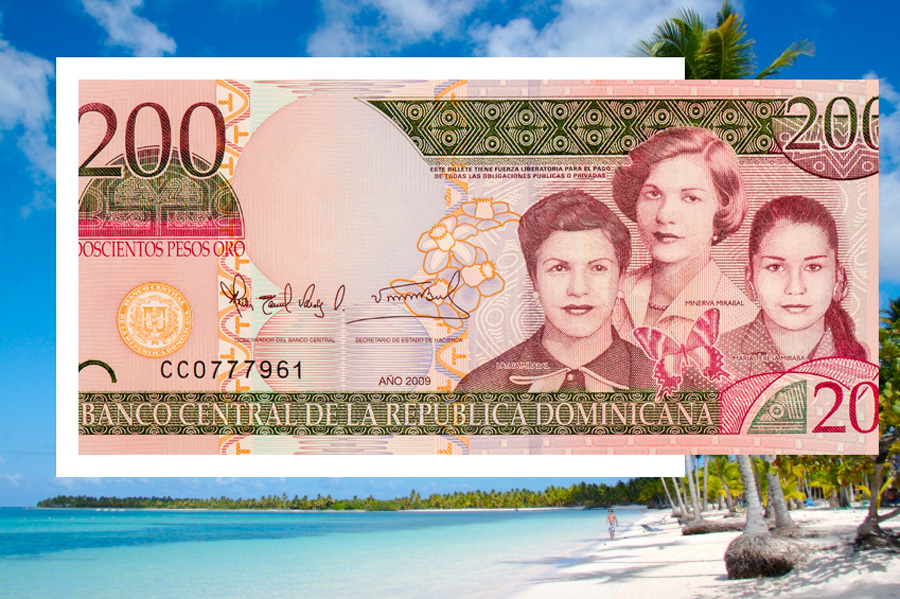 Peso, written as RD $ is the official currency of the Dominican Republic.  One of the benefits of vacationing in the Dominican Republic is the exchange value, especially US dollars and Euros, giving visitors more value for their money when compared to other destinations in the Caribbean.
Currency Exchange in Punta Cana, Dominican Republic
Cajeros from major banks such as Banco Popular, Scotiabank, Banco Progreso, Banco BHD offer the best currency exchange rates.
You can find a Cajero (ATM, distributeur, cashpoint, Bankomat) at the airport, resorts, shopping malls, and supermarkets.
Banks accept other foreign currencies such as the Swiss franc, Canadian dollars, British pound, Japanese, and Swedish krona among others.
Many establishments accept Dollars and Euros, however, you may not get the best exchange rate.  If you do, use an App such as XE or Google's current exchange rate in order to get a fair transaction.  Merchants typically will give you change in $RD pesos.
Currency Exchange Travel Tips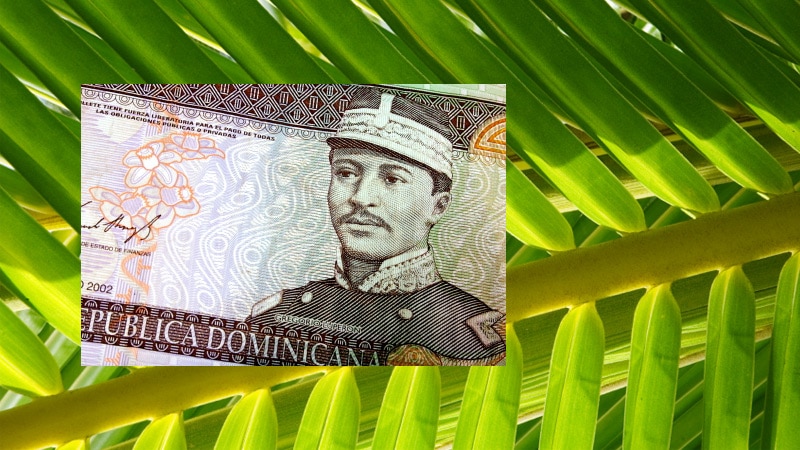 Cajero – the name for a cash machine in the Dominican Republic (ATM, distributeur, cashpoint, Bankomat).
Credit Cards:  A good way to get the best exchange rate is by using your credit card to pay for services, just watch for "foreign fee", contact your credit card company to inquire.
Mobile Currency APP – Download the APP XE for up to date currency information.
A quick way to remember the approximate value of Dominican Pesos ($RD):
RD$ 100 – $2 US
RD$ 500 – $10 US
RD$ 1,000 – $20 US
Banking
Banks are typically open Monday through Friday from 8:30 am – 4:00 pm. You will find banks at shopping centers / malls and supermarkets that have extended hours.
At the airport terminals, you will find banks that are open 24 hours in order to serve visitors at their time of arrival.
Tipping & Travel Tips in Punta Cana, Dominican Republic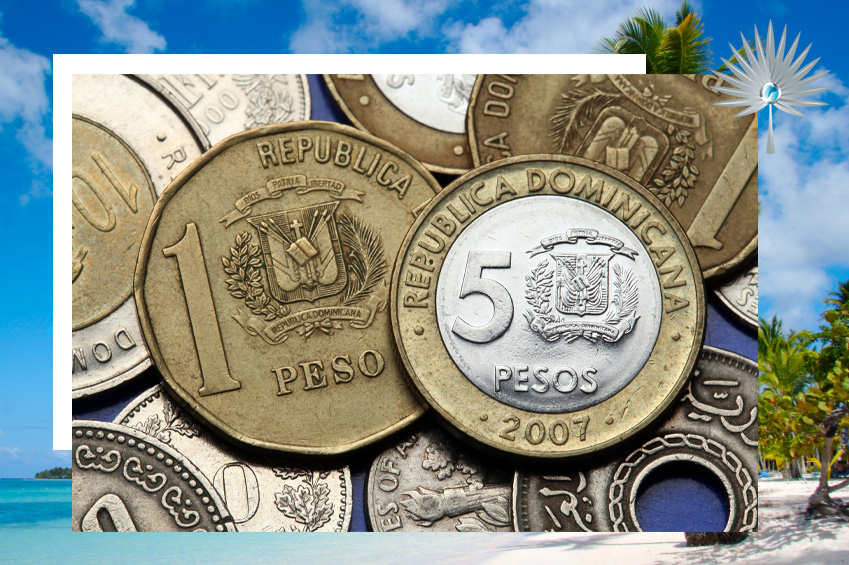 Restaurants – In your restaurant bill, you will see an 18% sales tax (ITBIS) and a 10% services charge.  Depending on the establishment, the 10% may be divided among the service staff and some managers even take part in it.  The wages in the Dominican Republic are quite low compared to the US, Canada, and Europe, if you feel the service was good, an additional tip would go directly to your waiter/waitress, it is best if you hand it directly in cash.
Tour Guides – Dominican tour guides have a great reputation for their friendliness and making sure travelers have a great time if you're happy with their service, a tip is very much appreciated and typically not included with the tour rate.
Taxis – Fees do not include tips, feel free to do so if you wish.
Credit Card Travel Tip
Notify your bank and your credit card companies about your travel plans.  Most credit card apps have a section for notification of travel, if you don't, you may run the risk of your credit card being declined for security purposes.
Check your credit card terms or call customer service before traveling to ask about international exchange fees.  Some credit cards do not charge international fees and you may use them in the Dominican Republic, that way you get the current and best exchange rate.
The Dominican Republic is an exciting wedding destination, offering breathtaking settings and romantic venues to celebrate your love.  There are many resorts offering special wedding packages and will help with acquiring documentation and answer any questions you may have in regards to getting married in the Dominican Republic.
Legal Requirements to Marry in Dominican Republic
The following information is for general use, be sure to confirm with the Dominican Consulate of your country to confirm the necessary documentation before deciding to get married in the Dominican Republic. 
When you arrive, to get married in the Dominican Republic, you must present the following:
A valid original passport
Original birth certificate
A single-status affidavit
If divorced, a divorce decree
If a widow, a Death Certificate.
Two witnesses with valid passports (not family)
Legal transcripts are required in Spanish, they will need to be prepared by the Dominican consulate in your country of residence, two witnesses are required.   You will be asked to send copies of the documents in advance in order for the Marriage Certificate to be prepared.
If you're legal non-resident foreigner, a passport must be presented.  If the couple is Dominican or legal foreign residents, their ID will be sufficient.
Civil Marriage
Before arrival, you must send a copy of the documents aforementioned to the Civil Status Office.
Religious Ceremony
You must obtain authorization from an archbishop in your country of residence and deliver it to the archdiocese in Punta Cana.   Those wishing for a religious ceremony in the DR's paradisiacal setting can make their dream come true. The main requirement is to obtain authorization from an archbishop in the couple's country of residence and deliver it to the local Dominican archdiocese.
The following documents are required:
Pre-matrimonial Certificate;
Certificate of Civil Marriage legalized by the Dominican Consulate, if the couple has already married in their country;
Baptism Certificates;
Certificates of Confirmation; and
Church Annulment Certificate(s), if applicable.
Birth certificates are also necessary
Affidavit of Marital Status, obtained from the Dominican Consulate of the country where it was issued.
Source: Dominican Republic Ministry of Tourism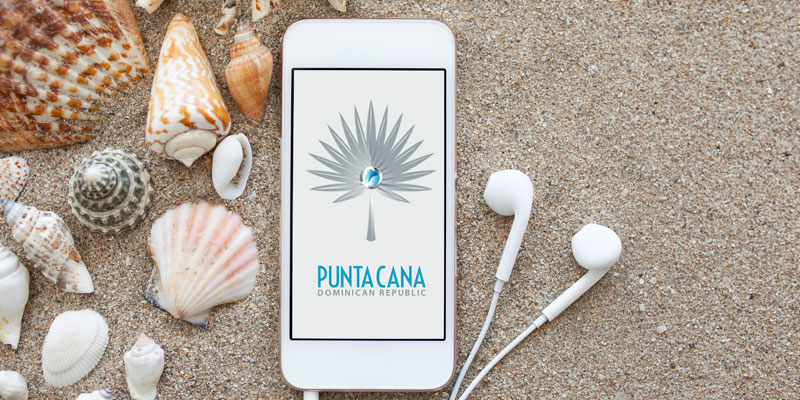 Cell Phone Service
– Claro, Tricom, Orange, and Viva are the major mobile network operators in the Dominican Republic.
– Area Codes in the Dominican Republic are 809, 829, and 849.
To stay connected during your stay in Punta Cana you have a few options:
Check with your wireless provider at home, most offer international calling and data plans.
Download Apps such as WhatsApp or Messenger to make free calls anywhere in the world through a WiFi connection.
If you have an unlocked cellular phone you can purchase a SIM card starting at $5 depending on your individual communication needs. You can purchase them at shopping centers and supermarkets.  A valid passport is required to purchase a SIM card. You can add credit to your plan at "BANCA", colorful little booths you'll see around the villages.
WiFi in Punta Cana
WiFi is available in resorts, hotels and small inns, be sure to check with the hotel of your choice.  Restaurants in tourist areas offer free WiFi and charging stations.
Punta Cana is a major tourist destination in the Dominican Republic, therefore a very tourist-friendly place where you will feel comfortable.  When visiting a government building or exploring attractions such as museums or a church, we recommend long pants for men and sundresses/pants or a skirt and a light blouse/shirt for the ladies.
Swimsuit are appropriate at the beach, pool area, and common entertainment resort areas.
Men –  We suggest you bring both long and short pants.
Ladies – Sundresses are great to feel fresh in the warmer climate as well as shorts, skirts and long pants of light fabric.
Dinner – Casual dress at many restaurants is acceptable.  Some resorts have more formal dining options, in which more formal wear is recommended.
The locals like to dress well when dining, but you will not be refused service or feel uncomfortable if you chose to dress in casual clothes.  Dominicans are very friendly, respectful of all visitors.
Pack light, you will find great pieces of clothes for both men and women at shopping centers, shops in resorts and surrounding areas.