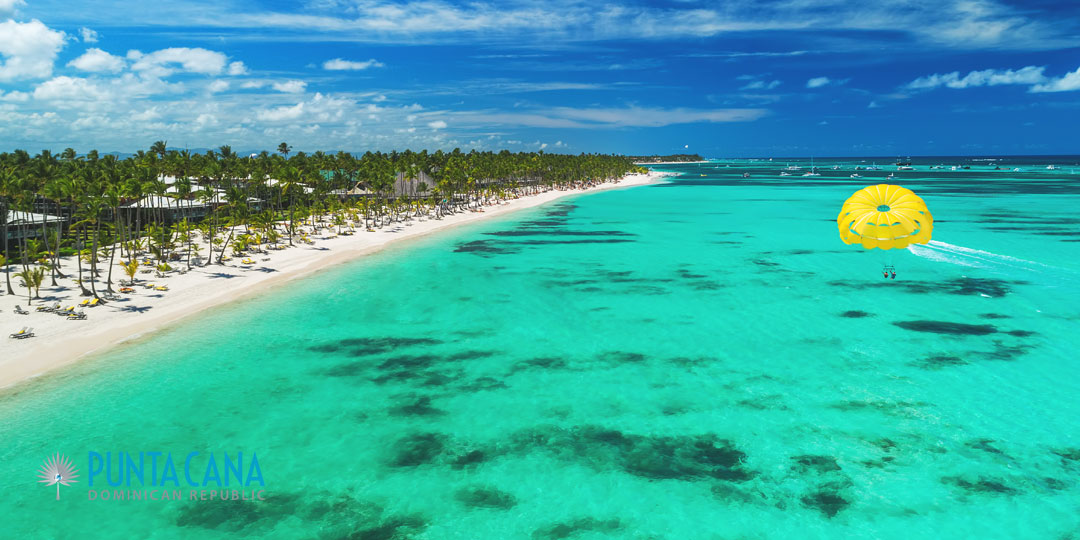 Punta Cana encapsulates the meaning of Caribbean dreams, capturing the hearts of visitors forever…  Punta Cana is the most visited and beloved destination in the Caribbean, located on the east coast of the Dominican Republic, where tropical dreams come true.  Allow us to give you a glimpse of this Caribbean Wonderland, a place of natural beauty, fun adventures, wonder, and relaxation; the kind of place you dream of when you close your eyes on a cold winter day.
Tourism in Punta Cana
La Altagracia, Dominican Republic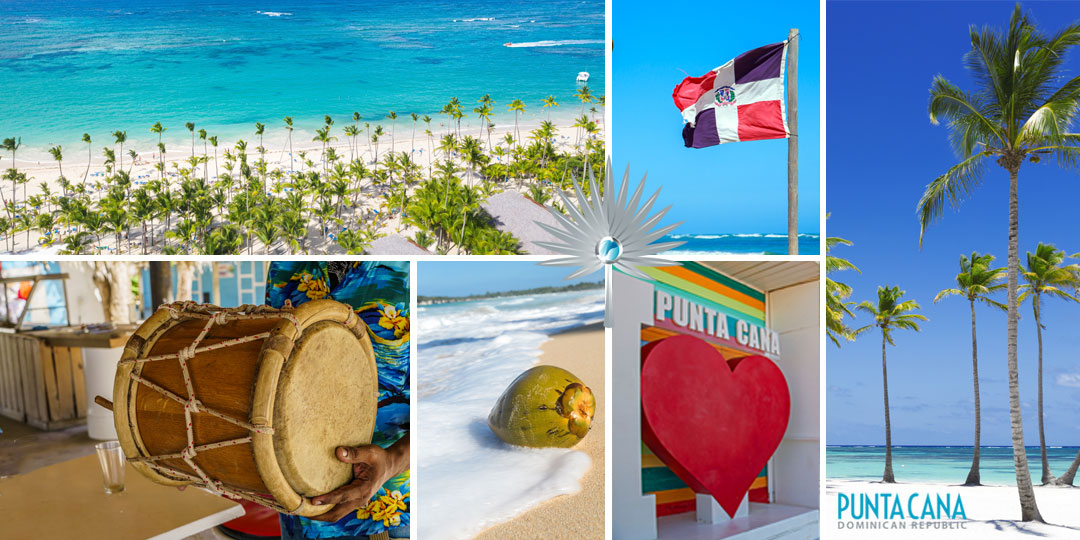 The Dominican Republic was ranked the #1 Destination in the Caribbean by TripAdvisor's Traveler's Choice 2021 thanks to reviews by travelers like you.  Punta Cana is the most visited tourist region giving you the confidence you'll love it here too.  Although very popular, with a gorgeous coastline of over 30 miles, there's plenty of room to relax, play and bask under the Caribbean Sun without crowds.
... read more
Just a few decades ago, Punta Cana was a jungle of palm trees dancing and growing freely across the pristine coastline of bewitching beaches.  Punta Cana was carefully planned to respect the ecological value of the land, turning it into a Caribbean Wonderland with an international culture perfectly blended with the best aspects of the Dominican culture.
Today, Punta Cana is the most popular and beloved beach and golf resort destination in the Caribbean, each property incorporates Dominican culture in unique ways giving visitors the perfect balance of a resort and cultural experience with bilingual staff that goes out of their way to give guests an unforgettable time.  Beyond the resort property, visitors can enjoy tours and cultural day trips to elevate the travel experience.
Explore the Coconut Coastline of Punta Cana...
From Exclusive & Romantic Beaches to Active & Fun ...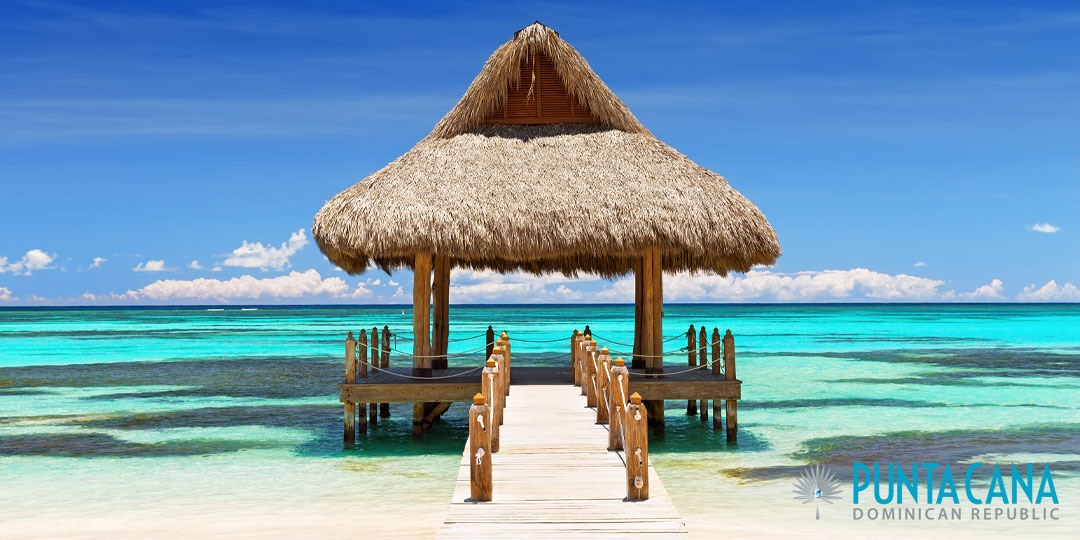 Punta Cana meets every dreamy expectation of vacationers seeking a perfect beach vacation.   Swim on waters with mesmerizing jeweled tones, walk-on pristine sand that ranges from coral white to honeycomb gold, framed by a lush tropical landscape.  The coconut coastline is yours to explore just steps away from some of the best all-inclusive resorts in the Caribbean serviced by some of the friendliest and most hospitable staff on the planet.  Punta Cana offers about 30 miles of gorgeous beaches known as the coconut coast.  The coastline runs continuously, with a number of beaches with their own vibe and unique character.  Find your perfect beach in Punta Cana before booking your hotel.
Endless Fun Things to Do Under the Sun & Marvelous Natural Attractions to Explore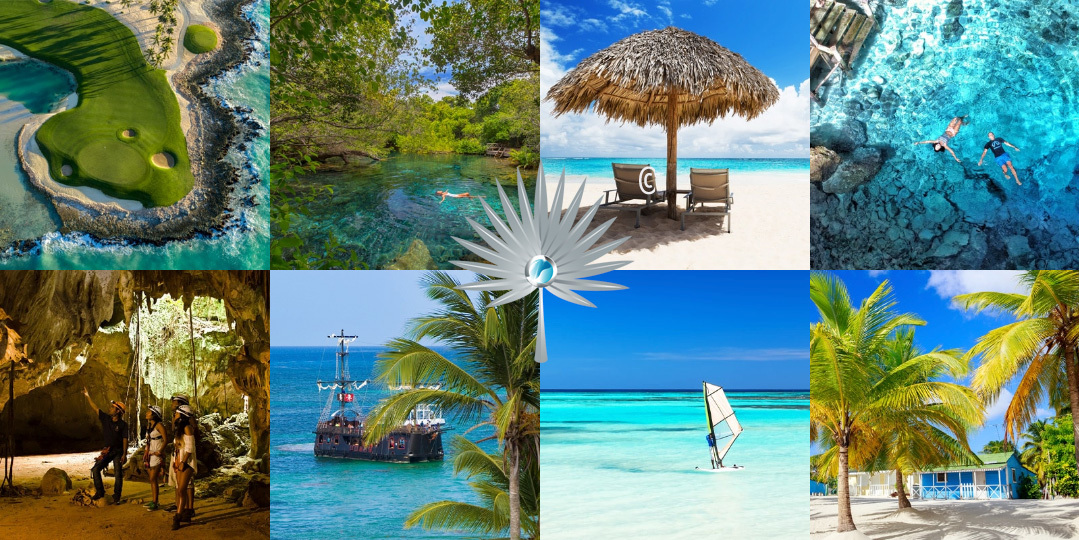 Punta Cana offers visitors over 30 miles of fantastic beaches, natural reserves to re-discover, world-class golf courses, casinos, a long list of watersports, cultural experiences, fun adventure parks, underground caves, mesmerizing cenotes, fun buggy rides through the colorful countryside, coral reefs, water parks, nightclubs… a Caribbean wonderland that has it all.
Outside of the Punta Cana tourist region, visitors can take a number of day trips, from UNESCO sites in the Colonial Historic District of Santo Domingo and nearby regions with more natural wonders.  With so much to see and do, it's no wonder Punta Cana welcomes back so many repeat travelers year after year.
Experience the Rhythmic Culture & Warm Hospitality of Dominicans
Punta Cana, La Altagracia, Dominican Republic
The rhythmic sounds of merengue and bachata, delicious hearty food, and warm hearts of the Dominican people, offers various cultural experiences making Punta Cana one of the most unique and culturally rich Caribbean destinations.   As visitors walk the beach, they're tempted to move to the sounds of the Tambor, Guiro, and Accordion. Without spending much, visitors can take home colorful works of art carefully crafted by talented humble artisans, go on fun ATV tours along the countryside, hop on a safari tour to coffee haciendas, and much more.  + Punta Cana Culture
Punta Cana... The Caribbean's Favorite All Inclusive Resort Destination
Miles of Beachfront Options from Romantic & Intimate to Fun Family Resorts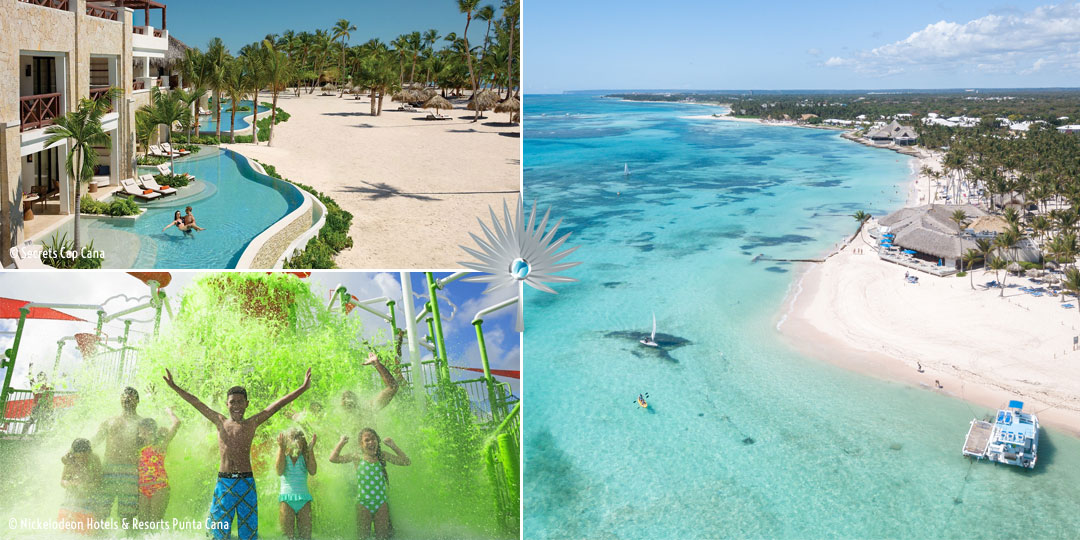 Punta Cana has redefined vacationing in the Caribbean, refining the all-inclusive concept.  Along the bewitching coastline of Punta Cana, you'll find a variety of resorts and hotels to fulfill your travel wishes, from adults-only romantic hotels to fun family-friendly resorts with waterpark to luxurious and exclusive.  What makes a resort vacation in Punta Cana & The Dominican Republic is the hospitality of the people, with bilingual staff welcoming international travelers, and over-delivering in service, entertainment, and cultural experiences.
Read more...
Punta Cana is one of the most affordable vacation destinations in the Caribbean.  Luxury travelers can choose from a variety of exclusive resorts voted among the best in the Caribbean.  Budget-minded tourists can enjoy an unforgettable vacation without sacrificing service or quality.
Home to Spectacular Golf Courses & Luxurious Golf Resorts
Punta Cana, La Altagracia, Dominican Republic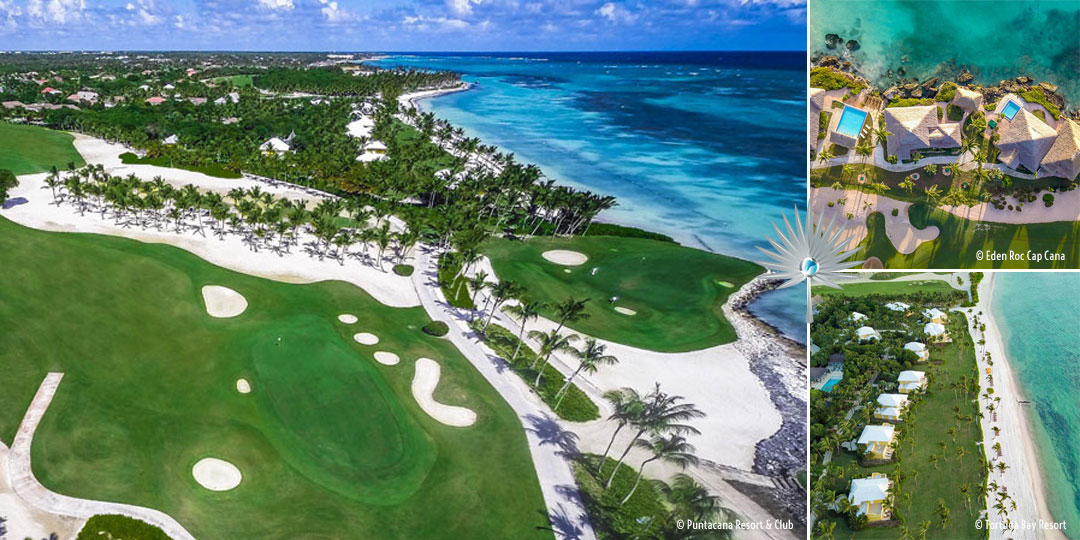 The Dominican Republic is the #1 golf vacation destination in the Caribbean, earning four spots in 2021 and 2022, two spots located in Punta Cana.  Editor's Golf Digest Choice. While in Punta Cana, golfers can spend a full week playing in breathtaking oceanside golf courses designed by some of the most respected architects.  Golfers and families can choose to stay at luxurious and exclusive golf resorts.   When off the green, golfers can put down the clubs in order to enjoy the blue turquoise beaches, cultural experiences, and activities to entertain the whole family/group.
Where is Punta Cana Located?
La Altagracia, Dominican Republic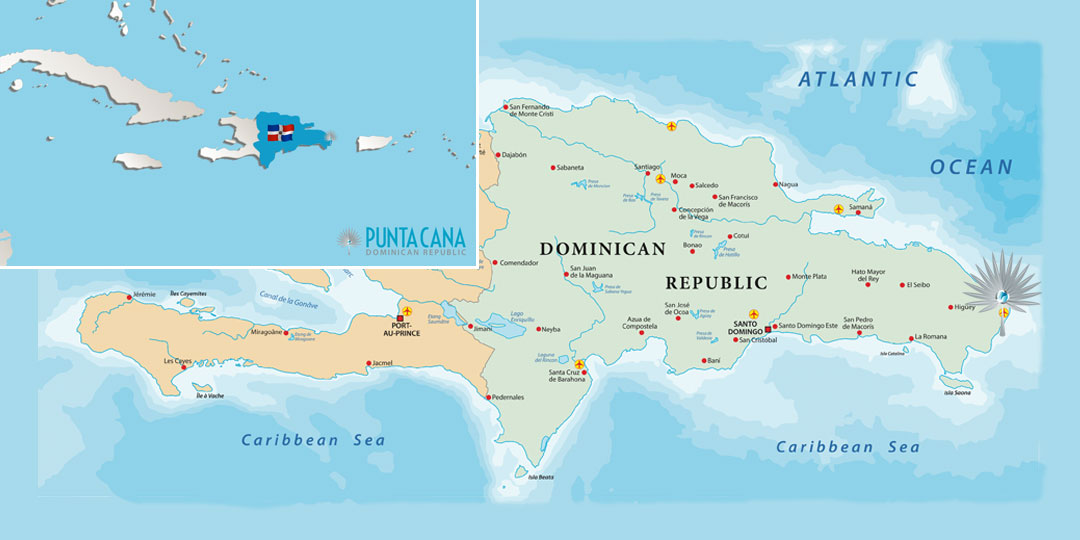 The world's favorite Caribbean destination of Punta Cana is located on the east coast of the Dominican Republic.  The country is part of La Hispaniola, an island made up of the Dominican Republic, and Haiti, part of the Greater Antilles.  The neighboring countries are Cuba to the west and Puerto Rico to the east.
Punta Cana Meaning & Pronunciation:  It is said that the name derives from the abundant palma de cana in the area, widely used to cover the roofs of buildings and umbrellas along the beach.  Punta Cana is pronounced "Poontah Caanaa"
Capital of Dominican Republic:  Santo Domingo
Official Language: Spanish, English is spoken in tourist areas
Time Zone: Caribbean Eastern Time (GMT -0400) – No daylight savings.
Travel to Punta Cana, Dominican Republic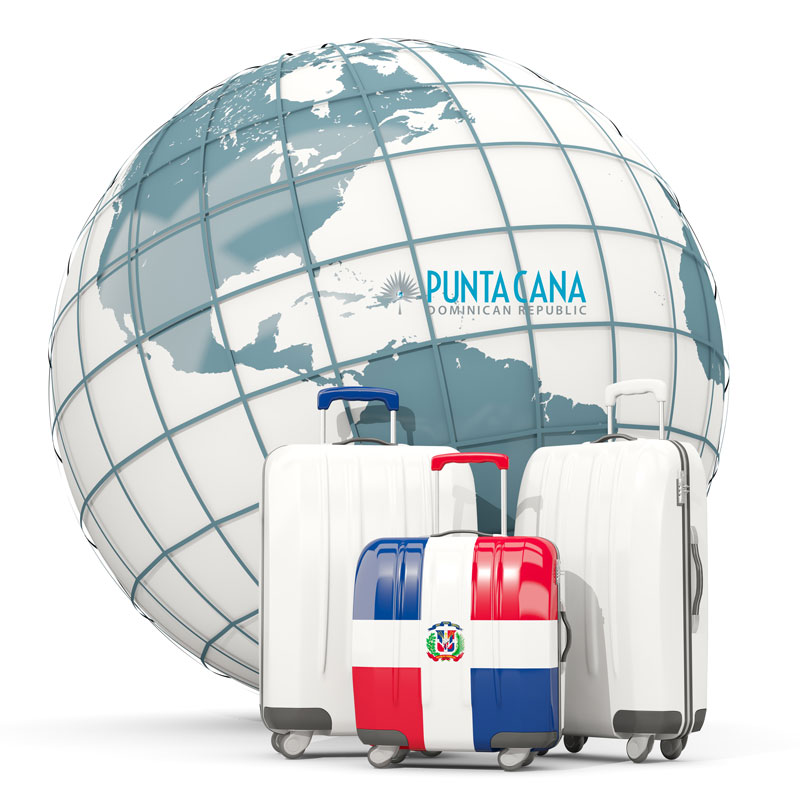 The Dominican Republic is the most visited Caribbean destination, Punta Cana being the number one destination within the country.
By air, Punta Cana International Airport is the biggest and most connected airport in the Caribbean and in the world, with flights from 28 countries, and 98 cities with over 500 flights per week during the high tourist season.
By land, if you're staying in other tourist destinations in the Dominican Republic, take the Oscar de la Renta highway from La Romana or Santo Domingo leading to Punta Cana.
Getting to the Dominican Republic is not complicated, just be sure to have your passport up to date or submit your paperwork to get one, so is ready while you plan an unforgettable tropical getaway in Punta Cana.  You'll also need a tourist card. For visa requirements and more detailed information visit the Entry Requirements guide.
Facts - Punta Cana, Dominican Republic
Drinking age: 18 years old
Political Status: Independent
President:

Luis Rodolfo Abinader Corona – serving as the 54th president of the Dominican Republic since 2020.  

Population in the Dominican Republic: 10 million
+ Cellular & WiFi
Cell phone service is good, call your mobile service provider to inquire about roaming and international plans.  Many stores also sell SIM cards you may use during your stay typically at a lower price than what it costs through your own mobile services provider.
+ Culture of Punta Cana
Get immersed in the vibrant, colorful and rhythmic culture of Punta Cana.  Be sure to book a cultural experience during your visit in Punta Cana.
+ Dress in Punta Cana
Punta Cana is a major tourist destination in the Dominican Republic, therefore a very tourist-friendly place where you will feel comfortable.  When visiting a government building or exploring attractions such as museums or a church, we recommend long pants for men and sundresses/pants or a skirt and a light blouse/shirt for the ladies.
Swimsuit are appropriate at the beach, pool area, and common entertainment resort areas.
Men -  We suggest you bring both long and short pants.
Ladies - Sundresses are great to feel fresh in the warmer climate as well as shorts, skirts and long pants of light fabric.
Dinner - Casual dress at many restaurants is acceptable.  Some resorts have more formal dining options, in which more formal wear is recommended.
The locals like to dress well when dining, but you will not be refused service or feel uncomfortable if you chose to dress in casual clothes.  Dominicans are very friendly, respectful of all visitors.
Pack light, you will find great pieces of clothes for both men and women at shopping centers, shops in resorts and surrounding areas.
+ Holidays in Punta Cana
There are twelve official holidays in the Dominican Republic.  Government offices, banks, and many private businesses close during the holidays, however, in tourist destinations many establishments and banks remain open to service tourists.
Holidays in the Dominican Republic 2020
Days in bold are holidays celebrated on the same day every calendar year.
January 1: Celebracion deAño Nuevo (New Year's Day)
January 6: Día de los Santos Reyes (Three Kings' Day)
January 21: Nuestra Señora de la Altagracia (Our Lady of Altagracia Day - Patron Saint of the DR)
January 26: Natalizio de Juan Pablo Duarte (Birthdate of Juan Pablo Duarte Day)
February 27: Día de la Independencia Nacional (National Independence Day)
April 10: Viernes Santo (Good Friday)
May 4: Día del Trabajo (Labor Day)
June 11: Corpus Christi Day
August 16: Día de la Restauración (Restoration of Independence Day)
September 24: Día de las Mercedes (Our Lady of Mercedes Day)
November 9: Día de la "Constitución (Constitution Day), celebrated on November 6 which is a workday and made a holiday on Monday the 9th.
December 25: Nacimiento de Jesús - Navidad (Christmas Day)
Source: Ministerio de Trabajo
+ Medical Care
Many resorts and hotels offer medical services on-site, be sure to inquire before booking if you have a medical condition that may require attention during your stay.
CESTUR is a security organization specialized in taking care of the medical and security needs of visitors with locations in tourist destinations.  Keep these numbers handy on your cell phone in case you need them during your stay +1 809-200-3500 (free line) & +1 809-222-2026 ext 2123.
Drugstores: There are various drugstores in the Punta tourist region, located in convenient locations such as shopping centers and supermarkets.  Be sure to have a prescription from your doctor when you travel just in case you lose your medications during travels.   For best locations near you, do a Google Maps search.
Hospitals:  Hospital IMG (809) 285-6116, Hospiten Bavaro (809) 686-1414
+ Money Matters
Currency: Dominican Pesos, written as RD$ and/or DOP
Sales Tax: 18% Sales Tax required by law  (ITBIS).  In hotels, bars and restaurants an additional 10% service charge is added to your bill (which does not necessarily go to your wait staff.  If you are happy with the service received, a tip of 10 - 20% is recommended and really appreciated by the wait staff since the hourly wage is really low in the Dominican Republic.
Banks:  There are banks at airport, and convenient locations such as the Blue Mall and Punta Cana Village.
Cash Machines:  The most convenient places to get cash in Punta Cana are the airport, Blue Mall & Punta Cana Village.
See our Currency & Tipping Guide for more information.
+ Utilities
Power: 110 volts  Standard plug has two flat blades, some appliances have a third-round pin.  Receptacles work to accommodate both, the same as in the United States and Canada.  Visitors from Europe and other countries will need an adapter.  To be sure your electronics work, we suggest you bring your own adapter in case the hotel does not have enough for all guests requesting it.
Water:  The water is not potable in Punta Cana, it is recommended you drink bottled water or bring a travel bottle with a filter.
Fuels:  Regular & Premium unleaded gasoline, diesel fuel and propane gas
T.V & Internet: Television and internet access is available in all of Punta Cana through cable or satellite.  Some remote areas in the Dominican Republic still lack television and internet access.
+ Weather in Punta Cana
Map - Punta Cana, La Altagracia, Dominican Republic