One of the Top Natural Attractions you can't miss in Punta Cana, Dominican Republic
Punta Cana is famous for its beaches, but cenotes are gaining much attention and slowly becoming one of the most "must visit" attractions in Punta Cana…and they ought to be.  Hidden in subtropical forests and underground caves, you'll find cenotes and "blue lagoons" with are simply bewitching to the eye and natives considered mystic … special gifts from God.  While in Punta Cana you can experience swimming in crystalline water that looks like liquid glass with colors so surreal they seem tinted in shades of aquamarine, turquoise emerald green.
Unlike the warm water that washes ashore from the Caribbean Sea, the water in the cenotes and lagoons is cool, crisp, and fresh.  The most accessible cenotes and lagoons are inside Ojos Indigenas (Indigenous Eyes) Ecological Reserve in Punta Cana and Hoyo Azul inside Scape Park at Cap Cana.  Both parks offer additional attractions and activities to keep you busy for a full day and entertain the whole family.
Below, is more information about cenotes, top-rated tours and maps, informational links, and videos.
Hoyo Azul (The Blue Hole) & Las Ondas – Cap Cana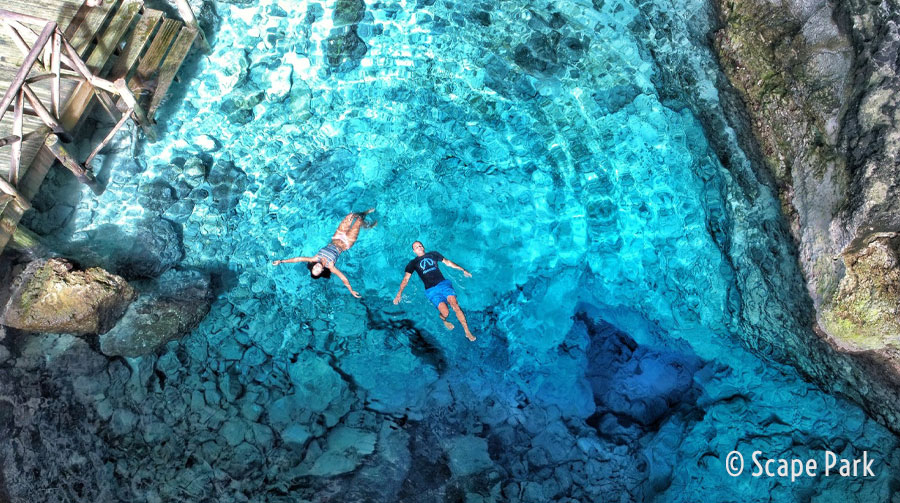 Inside the fun Scape Park at Cap Cana, Hoyo Azul will be the most unforgettable experience and the highlight of your day.  As you walk down towards "The Blue Hole", you'll just say "wow!".  The scenery is so gorgeous, many couples come to take the most romantic photos on their wedding day.
The water is… so magically blue, like a giant aquamarine precious stone…and you become one with it.  You'll have the most amazing vacation photos taken here.
Hoyo Azul (The Blue Hole) is not the only cenote inside Scape Park, there are multiple ones.  Head to Las Ondas, an underground cave with those mystical waters the natives loved with just a ray of sunshine creating that magical scene.  Pictographs made by the Taino natives can be observed at the cave.  Scape Park did a wonderful job respecting the natural ambiance of the cave, yet making it accessible with hiking trails leading down to the cave and adding lighting accentuating the beauty of this natural treasure.
Top Rated Tours to Hoyo Azul
Indigenous Eyes Ecological Park and Reserve – Punta Cana, Dominican Republic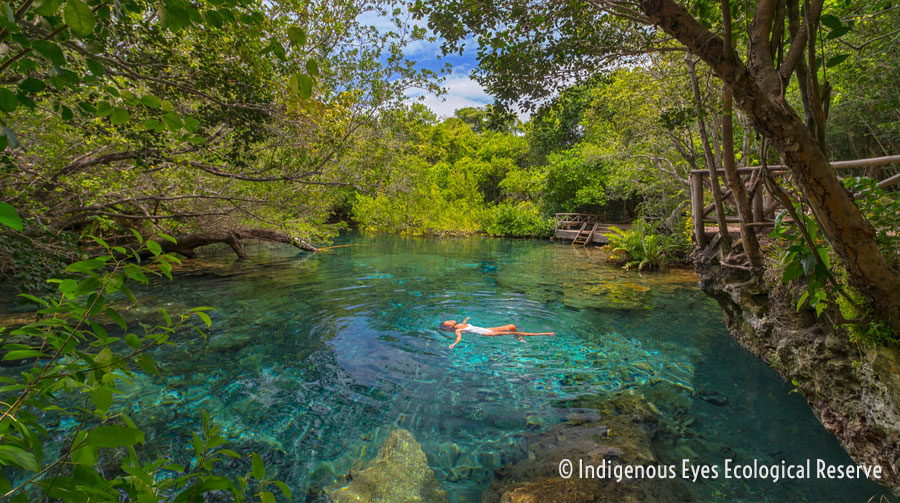 Indigenous Eyes Ecological Reserve has twelve freshwater lagoons, five of which are open for swimming, once you gaze at the waters, you'll want to take a dip to become part of this mesmerizing scene.  Freshwater from a subterranean river flows into the lagoons that aboriginals called "eyes", these beautiful lagoons indeed look like eyes on the ground in beautiful shades of emerald and turquoise.
Entry Fee
– Free of charge for hotel guests of Tortuga Bay, The Westin Puntacana Resort & Club, and Puntacana Resort & Club homeowners and residents.
– Visitors can pay a fee to enter.  As you're entering the Puntacana Resort & Club you'll see a building to the right of the gate.  Pay an entry fee, you'll need your ID / or passport to receive the pass.
Top Rated Tours to Indigenous Eyes Ecological Park
Museo Indigena Yucayeque Macao – Higüey, La Altagracia
Inside this 52 acre farm, there are various underground caves with cenotes where the crystalline water of the Anamuya River flow.  You'll be visiting a place beloved and respected by natives.  Museo Indigena Yucayeque Macao also offers a cultural and educational experience for visitors, they have a farm growing food plants that are consumed in the traditional Dominican cuisine as well as cacao and tobacco.  You can walk into traditional conucos (native huts), dine and savor traditional Dominican food among other activities.
Hoyos del Salado aka Hoyos de Molina – Macao
Near Macao in the area of La Ceiba various tour operators offer daily trips with a stop on this spectacular underground cenote in a cave.  Natural works of arts in the cavern (stalagmites and stalactites) can be admired as you float and swim on the cool, crystalline water naturally tinted in blue.
Top Rated Tour Packages with Cenote Visit
Punta Cana, Dominican Republic