Don't miss the dreamy Saona Island. 
Reserve now and pay later.
Like a jewel… with its aqua and turquoise tones caressing the sparkling white sand of shores landscaped by lush coconut palm tree groves, free of development…just the place you imagine escaping to in a cold winter day.   A visit to Saona Island will make you feel as if you're part of a movie set, a scene you would expect to see on the filming of Pirates of the Caribbean, and as a matter of fact, it was.  Isla Saona is the most loved natural attraction in the Dominican Republic welcoming explorers from all walks of life and corners of the world seeking to experience and satisfy their Caribbean vacation dream.
Keep reading for inspiration and information to plan a visit to Saona Island including the best things to do and top-rated tours you can book online, but before we do, let us tell you a glimpse of what you'll find on this natural jewel of the Dominican Republic.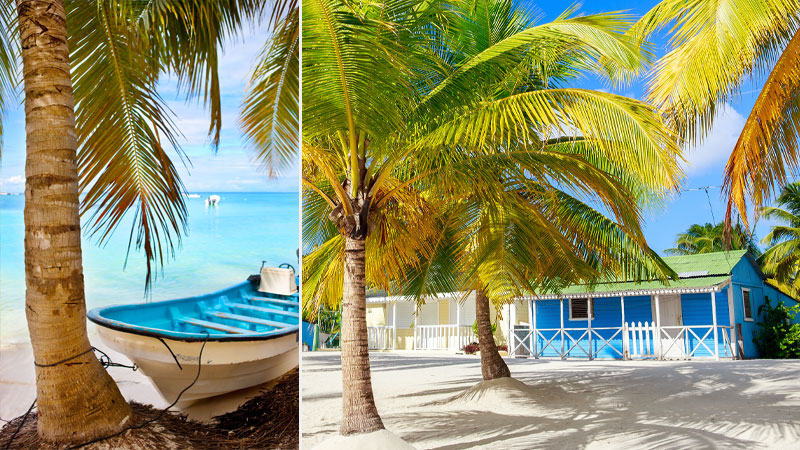 Saona Island, formally named Isla Saona, is part of Parque Nacional Cotubanamá (Cotubanama National Park), formerly called Parque Nacional del Este.  Saona Island is the most popular and most visited attraction in the reserve.  Saona is inhabited by about 400 residents; humble, friendly, and hospitable saoneses make a living from tourism, fishing, and art crafts mostly crafted from jícaras (coconut husks).
Read more...
The only "town" is Manu Juan, located on the south side of the island, a fishing village with little wooden homes styled in the traditional architecture of country homes on the main island of the Dominican Republic, painted in cheerful pastel shades contrasting with the natural richness of the island.
As you sit on a lounge chair and frolic on the waters of the beach steps from your resort in Punta Cana, you may find yourself asking…"How much better can it be?, Why should I pay to go on a tour when I have a great beach right here in my hotel?"… Allow us to tell you why…just take a few minutes as we attempt to describe this jewel that truly needs to be seen and experienced to believe it.  If you need further proof, just read reviews or ask someone who's been here.  We encourage you to place Saona Island on your "top things to do while in Punta Cana", in fact, it is the most sold tour and we are confident it may be the highlight of your trip.
See Top Rated Tours Below & More Information Following
Top-Rated Tours to Saona Island from Punta Cana
Dominican Republic
Small Group & Private Tours to Saona Island
Dominican Republic
The Pleasures of Saona Island
Dominican Republic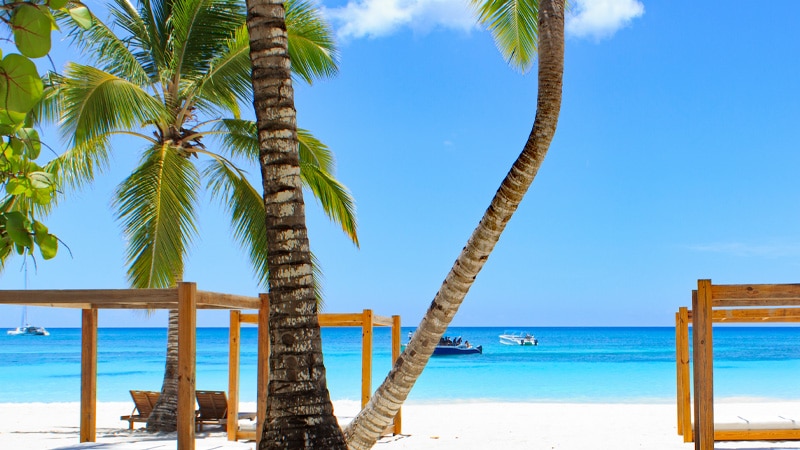 The Vibe… relaxed, happy, lively, natural
The Water… clear, surreal tones of blue, warm, shallow, home to a large colony of starfish
The Beach… lounge chairs for relaxing under palm trees with magazine cover-worthy views, diamond white sand, leaning palm trees for that Instagram post, great food, and hospitable service just steps away.
The Experience…
Depending on the tour you choose, you'll have an enjoyable ride by catamaran or smaller motorboat.
Most tours will make a stop at the amazing Natural Pool, often called the biggest natural pool in the world.   The water is hypnotizing with shallow water no deeper than your waistline.
Snorkel on coral reefs with friendly colorful schools of fish.
Walk around natural pools where hundreds of starfish have made it home. (See tips below for helping us keep the starfish healthy)
Relax under the shade of coconut groves along the shore
Hike trails through lush flora as you are serenaded by birds leading to more secluded beaches with leaning palm trees with water perfect inviting you to swim and snorkel.
Feast on delicious fresh fish often served with rice cooked with coconut milk and of course a refreshing Piña Colada made with the freshest fruit and coconuts mixed with Dominican rum.
Let your feet sink into the white sand as your hips move to the rhythms of merengue and bachata.
Best Things to Do in Isla Saona (Saona Island)
Dominican Republic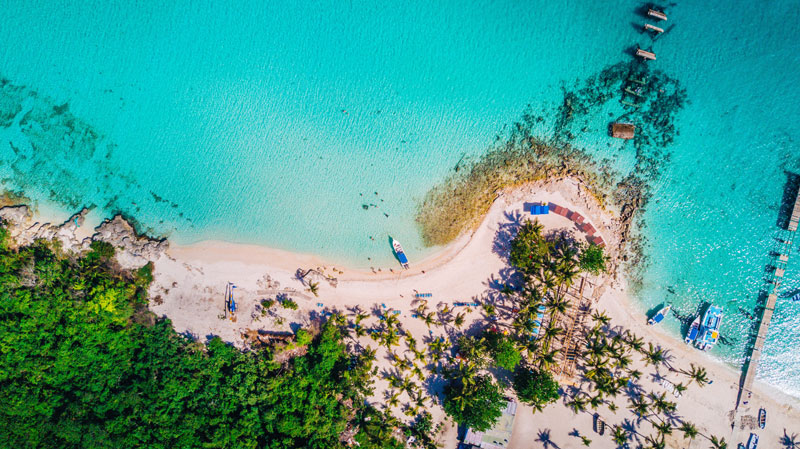 When you step foot on Saona Island, you may wish to take a while to simply marvel at its beauty and take hundreds of photos on this postcard-worthy piece of heaven; once you pinch yourself and realize you're not dreaming, you can immerse yourself in the wonderful activities that Saona has to offer.
Following is a list of wonderful activities you can experience during your visit to Saona Island:
Enjoy the Beaches
The only thing you'll be wishing for during your day trip to Saona Island is more time to enjoy its beaches.
The Natural Pool – On our way to Saona Island, your tour will most likely make a stop at "The Natural Pool", often called that largest natural pool in the world.  A massive sandbar creates this slice of heaven in the Caribbean Sea where you can walk on a sandy bottom with clear water perfect for families with children since the water is only a few feet deep.  Be sure to watch where you walk, hundreds of starfish indigenous to this region and the colorful Lambi Conch can be seen at the bottom, if you feel a tickle on your legs, it may be schools of friendly fish.  Children and adults alike will treasure this experience.  Various tour operators offer you drinks as you wade in the water, it is the ultimate swim-up bar in the middle of the Caribbean Sea.
Canto de la Playa Beach – A short hike from Mano Juan will lead to this beach where you'll find fewer crowds and more snorkeling opportunities.  The waters are amazing, just like the rest of the island, just feels more secluded.
Shop & Dine at Manu Juan
This charming fishing village may be small, but you'll have a fun-filled and relaxing day.   Bring a little cash to support local artists by shopping.  Saona's residents make a living through tourism and fishing, on the island, there are various casual outdoor dining places selling fresh fish (really fresh).  They're so happy you're there and show it with a smile, love, and care when preparing meals.
Snorkeling 
Snorkeling is the most popular activity in Saona Island.  Along the rocky coastline, you can snorkel along healthy coral reefs with abundant colorful sea life.  As you snorkel over this natural aquarium on warm Caribbean water, you'll completely forget the winter blues and hustle of your everyday life.  You may spot manatees, sea turtles, dolphins among the abundant sea life.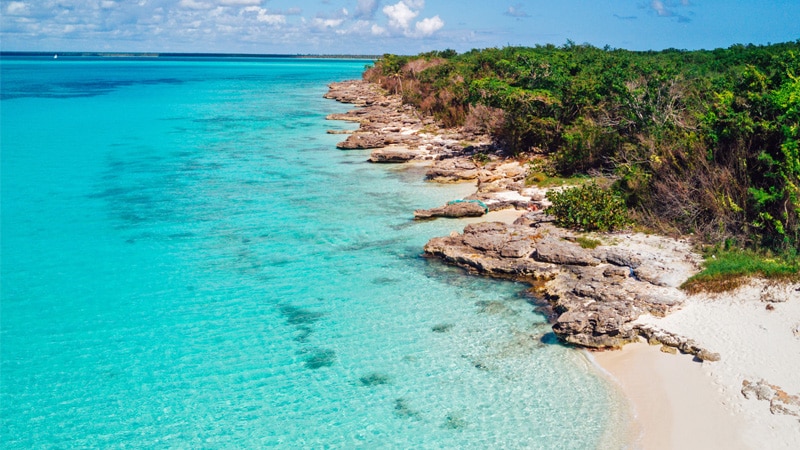 Scuba Diving
Book a scuba diving tour, diving professionals will take you to the best diving sites in Saona Island for an unforgettable experience.  Popular diving sites are along the reefs in Dominicus and Viva Shallow.
Go for a Hike
If you can manage to get away from the water and the shoreline, go for a walk along the marked hiking trails.  A hike will allow you to appreciate the lush flora, fauna.  There are cave systems with great archeological importance where Taino natives took refuge, the most visited is Cave of Cotubanama, named in honor of the chief.  Along the trails, you'll also encounter beautiful freshwater springs.
Turtle Recovery Centre
Isla Saona is a turtle nesting site, locals care about their preservation.  Visit the Turtle Recovery Centre so you can learn about their efforts, a great learning experience for the whole family.
Getting to Isla Saona (Saona Island)
Dominican Republic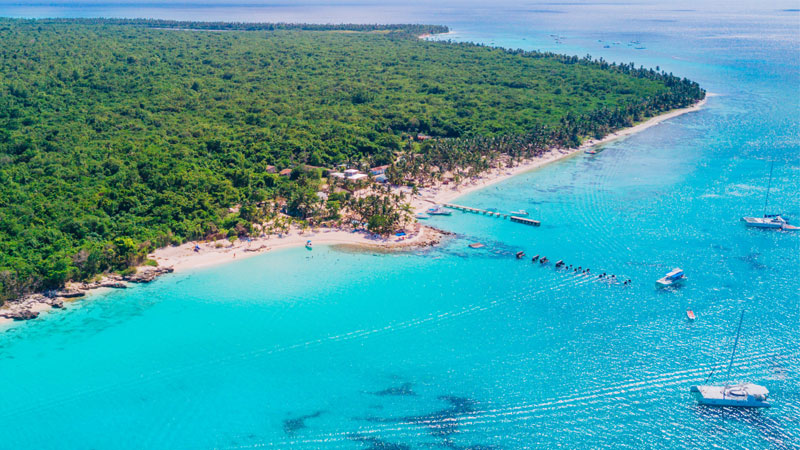 Getting to Punta Cana to Saona Island is easy, charters by tourist agencies and the resorts offer daily trips.  You can choose from catamarans, sailing boats, speedboats, or small motorboats.  Saona Island is a popular tour for tourists in Punta Cana, we recommend you book ahead online.
Most charters include:
Transportation to and from your hotel/resort
Boat ride to Saona
Lunch on the island or on the boat
Drinks (alcoholic and non-alcoholic)
We suggest you bring the following to Saona:
Waterproof beach bag
Sunscreen (Safe for reefs and your skin)
Copy of your ID (leave official documents on a safe at your hotel)
A little cash for shopping and tipping if you wish
Waterproof case for your phone
A small case with medically necessary medications.
Interesting Facts - Saona Island, Dominican Republic

[the_ad_placement id="under-3rd-image"]
+ Interesting Facts - Saona Island, DR
Setting for a Bounty Chocolate bar advertisement.
Hollywood scenes filmed on the beautiful Canto de la Playa Beach in Saona Island:

Pirates of the Caribbean
The Blue Lagoon
+ Basic Facts - Saona Island, DR
Location of Isla Saona – Caribbean Sea
Width: 5 km (3.1 miles)
Length: 25 km (15.5 miles)
Area: 110 km (42 sq miles)
Highest Elevation: 35 m (115 ft)
Province: La Altagracia
Country: Dominican Republic
Population: 400
+ A Litle History - Saona Island, DR
Indigenous Tainos were the first inhabitants naming the island Adamanay.
Christopher Columbus first arrived to the island in 1494, he named it "Isla Savona" to honor his friend Michele da Cuneo, who was from Savona, is a seaport on the west of northern Italy in the Luguria region.
Name was later changed to Isla Saona.
By the 1500's, the Tainos living in Saona provided the capital city of Santo Domingo with most of their cassava.
Cacique Cotubanamá is the most notable personality in the history of the island, who governed and defended the island from Spaniards during their conquest.  One of the caves in Saona Island is named in his honor.
Videos - Saona Island, Dominican Republic