You've heard of Punta Cana's mesmeric beaches, stunning golf courses, and world-class all-inclusive resorts, making it the most visited destination in the Caribbean… but this place offers so much more.  When you take a look at Punta Cana's natural attractions, adventure parks, cultural experiences, and a long list of fun things to do, there's no denying it truly is… The Caribbean Wonderland.  After a stressful and challenging 2020, the first thing on your mind may be relaxation, but you deserve to have some fun too, and there's plenty of opportunities in Punta Cana.
+ Read more...
We encourage you to leave the resort property for a few hours or a day trip adventure.  Visit one of the offshore islands, book a fun safari or buggy tour to the countryside, have a fun cultural experience, try an exhilarating experience on the water or a line across a green canopy, learn how to dance merengue…and much more.
Following we've come up with a list of the best attractions, and things to do in Punta Cana.  How did we come up with the list?  We know Punta Cana, so we'll have our own recommendations but most importantly we have also listened to what people like you have said, so we've included the top-rated attractions and best things to do ranked by respected guides with real reviews.
Sail the Turquoise Coconut Coastline by Catamaran & Snorkel on the Cabeza del Toro Nature Reserve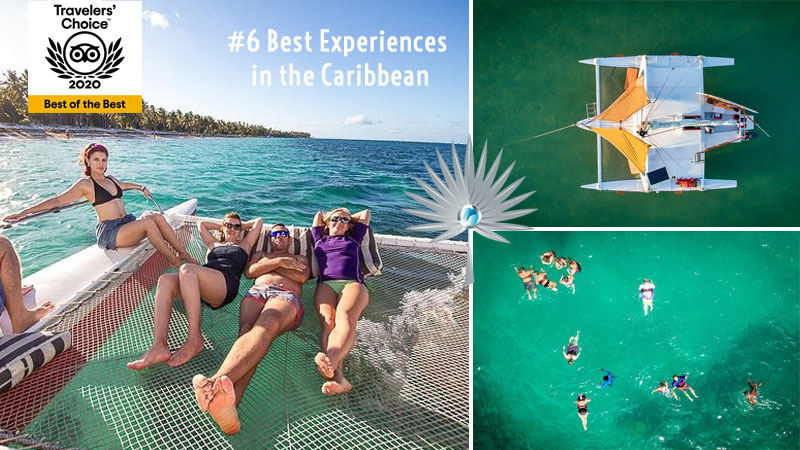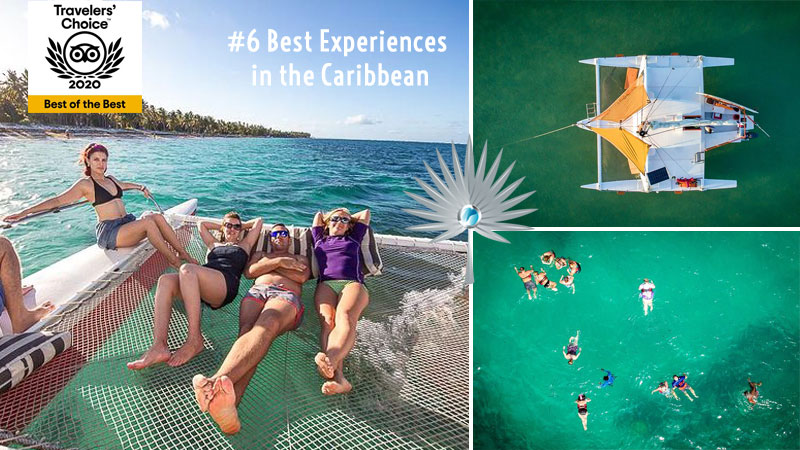 You may have booked a great all-inclusive stay at one of the amazing beachfront resorts in Punta Cana, you'll be able to enjoy the turquoise water just steps away from the property, but the best way to appreciate the beautiful coastline of Punta Cana is from a boat or the air.  As you cruise along the coastline you'll find yourself mesmerized by the blue skies above the turquoise water, the cooling salty breezes as you toast with your loved ones, family, or friends to celebrate special moments such as these…  The Captain will take you to Cabeza del Toro Nature Reserve, a natural pool of clear water, where you can snorkel on a natural aquarium with colorful schools of tropical fish.
While there are various tours offering this trip, we must give the spot to the best-rated tour, thousands of happy travelers shared their positive experience, placing this tour on the #6 spot of the coveted list of Top Experiences in the Caribbean, giving it the Best of the Best Award by TripAdvisor's Traveler's Choice, meaning you can book with confidence.  This is a small group tour, and very popular so don't wait and secure your space now.
Swim, Play & Party at Bavaro Beach – A Caribbean Playground
Ranked Among the Best Beaches in the World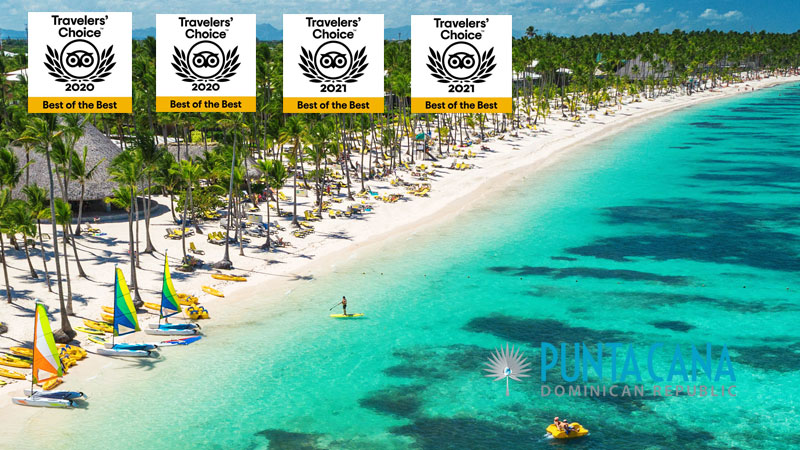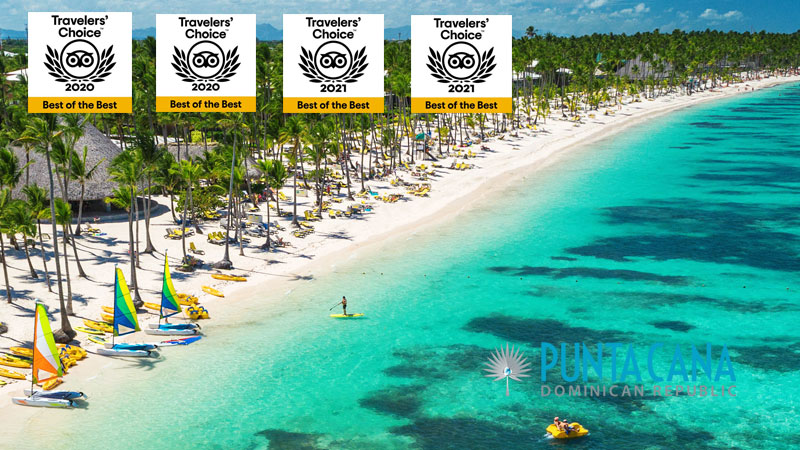 Punta Cana attracts travelers from all over the world seeking the perfect tropical getaway.  While there's a number of great beaches in Punta Cana, be sure not to miss Bavaro Beach, not only the best beach in Punta Cana but also ranked among the best beaches in the world and the Caribbean.
But don't take our word for it… tens of thousands of travelers like you reviewed their experience placing Bavaro Beach…
– #19 two years in a row – "Top 25 Best Beaches in the World" –  Best of the Best 2020 & 2021 Award – TripAdvisor's Traveler's Choice.
– #8 two years in a row – "Best Beaches in the Caribbean" – Best of the Best 2020 & 2021 Award – TripAdvisor's Traveler's Choice.
The shore is perfectly landscaped with coconut groves, lounge chairs inviting guests to relax, water sports to re-ignite the playful side, plenty of fun tours all day long… under the year-long warmth of the Caribbean sun. 
Top Rated Tours - Bavaro Beach
Take a Day Trip to the Beautiful Saona Island

As if the amazing beaches of Punta Cana were not enough to fulfill Caribbean dreams… you can take a day trip to Saona Island, unspoiled by development, to swim and snorkel in the clearest and most seductive waters.  The island of Saona is like a dream, where you can spend the day swimming in shallow water, lounging on magazine-worthy spots, or snorkeling for hours on water that feels like a giant aquarium.  Tour companies offer day trips to Saona Island by catamaran party boats to more intimate charters perfect small groups or couples desiring a more exclusive experience.
Top Rated Saona Island Tours
Go on a Fun Safari Tour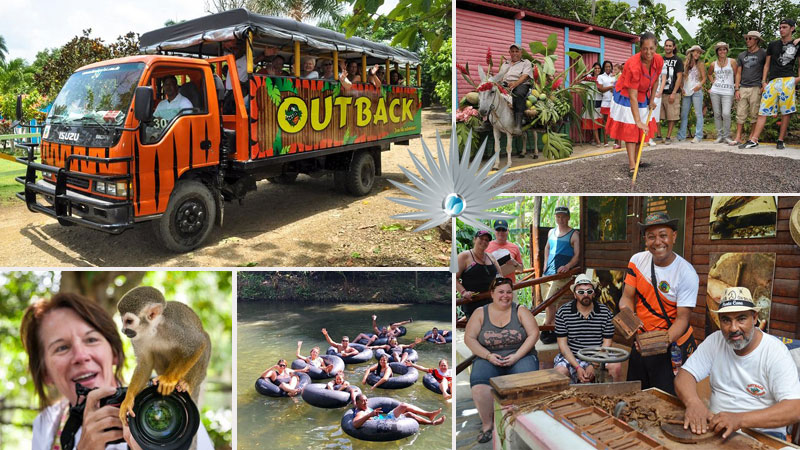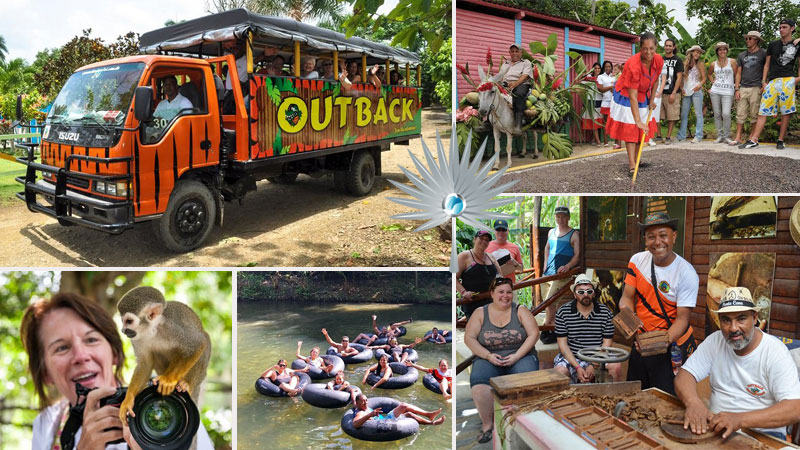 Bring your entire family for a fun-filled day where you can get to see the vibrant countryside, warm culture of Dominicans, taste delicious food, laugh, and mingle with happy travelers just like you.  One of our very own tour companies in Punta Cana, Outback Adventures proudly earned the #1 spot on "Top 10 Experiences in the Caribbean" in 2019 and continues to deliver happy times and memories.  Other favorites are Monkeyland & Plantation Safari Tour, popular among families with kids.
Top Rated Safari Tours in Punta Cana
Play a Game of Golf on World Renowned Courses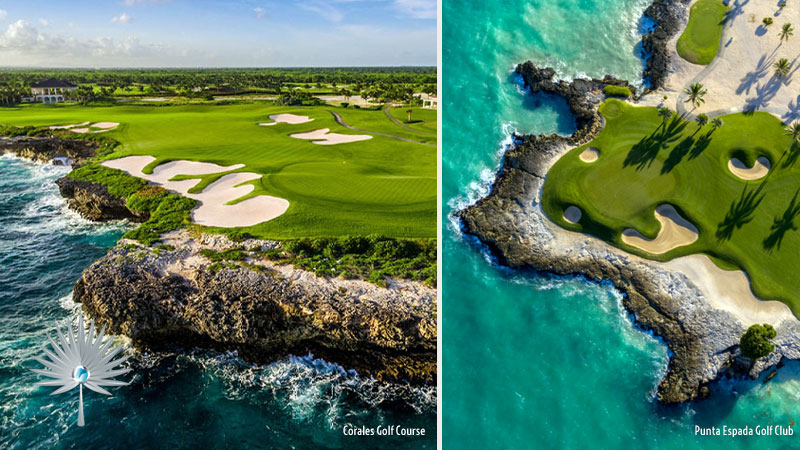 Punta Cana and other tourist regions in the Dominican Republic constantly rank among the best golf destinations in the Caribbean.  The beautiful coastline is not only for beachgoers, golfers can play on stunning oceanfront courses, regular venues for Championship Tours.  Four golf courses in the Dominican Republic out of seven made it to the list of Golf Digest's "2020 & 2021's Top Golf Resorts in the Caribbean and Bermuda", two of them are in Punta Cana.  Courses in Punta Cana have been designed by acclaimed architects such as Jack Nicklaus, Tom Fazio, Pete Dye, Greg Norman, among others.
Book Golf Course Tee Times - Punta Cana
Go Snorkeling in Punta Cana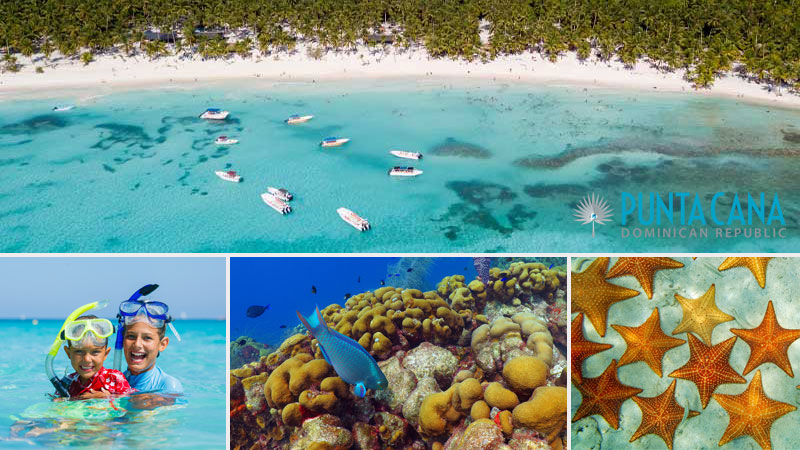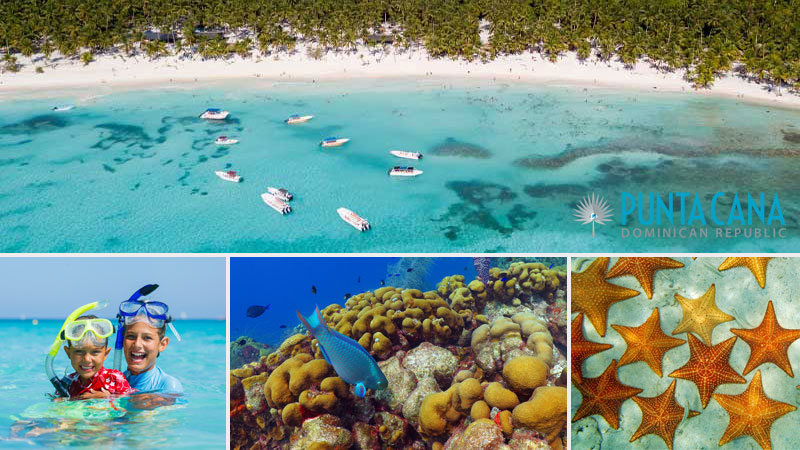 Punta Cana has a way of placing the fun into just about every activity, snorkeling tours are among the top experiences for adults and children.  Hop on a lively catamaran cruise across the coastline to Cabeza del Toro Nature Reserve, a natural pool with a natural aquarium underneath the clear waters.  Go on a day trip snorkeling to Saona Island where starfish abound.  Beginners and families with small children may wish to snorkel at Marinarium, an enclosed pool where you can swim and have encounters with friendly sea creatures.  
Monkeyland – A Family Favorite Nature Park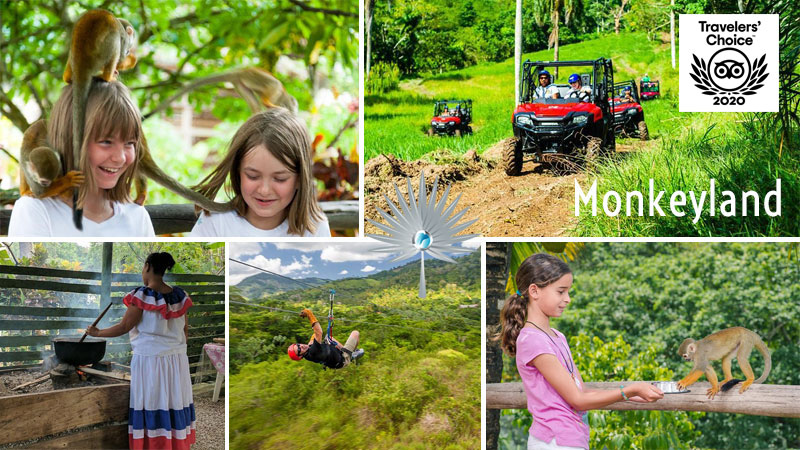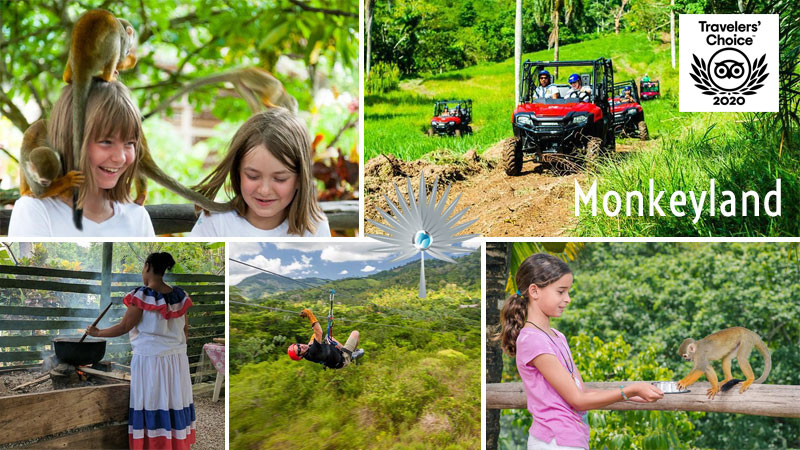 A short drive from Punta Cana, the entire family, and eco lovers will enjoy mingling with the favorite creatures in the park, the cute and friendly squirrel monkeys.  The nature park also offers ziplining, safari tours, buggy rides as well as cultural experiences of the traditional country life of Dominicans.  The best tours bundle all the fun for an exciting day full of activities sure to bring smiles and make wonderful memories.
Go on a Fun Buggy / ATV Adventure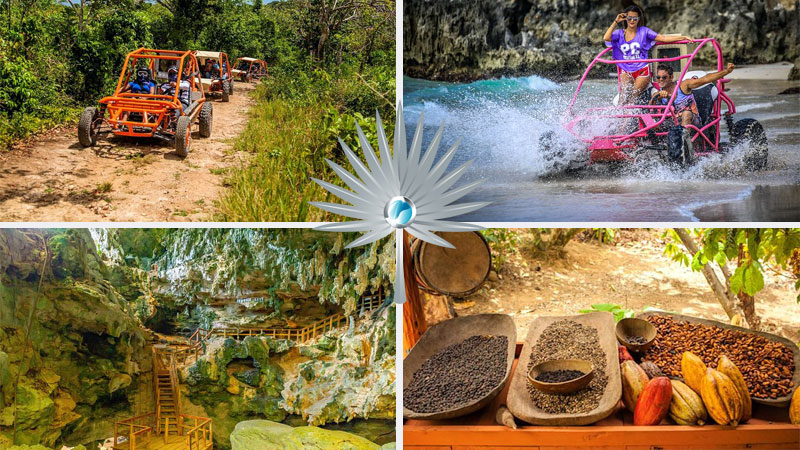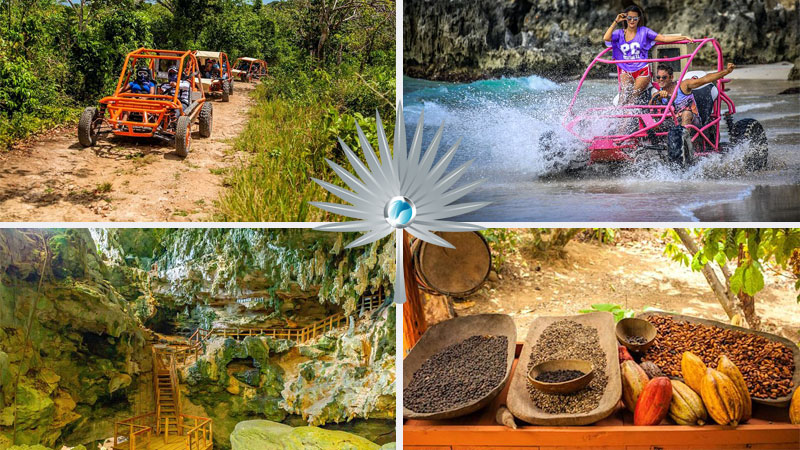 Bring a backpack with a bandana, change of clothes, sunglasses, sun lotion and swimsuit under an outfit you won't mind getting dirty, it may get muddy but all the fun you'll have, beautiful places you'll see and cultural experiences you'll enjoy is worth getting dirty.  Depending on the tour you choose, you may visit cocoa and coffee plantations, ride across colorful country homes, swim in mesmerizing cenotes, and end up at secluded beaches to swim and clean up the mud.  Whether you're in Punta Cana for your honeymoon or traveling with the kids, there's a fun buggy tour you'll enjoy.
Swim on the Mesmerizing Cenotes of Punta Cana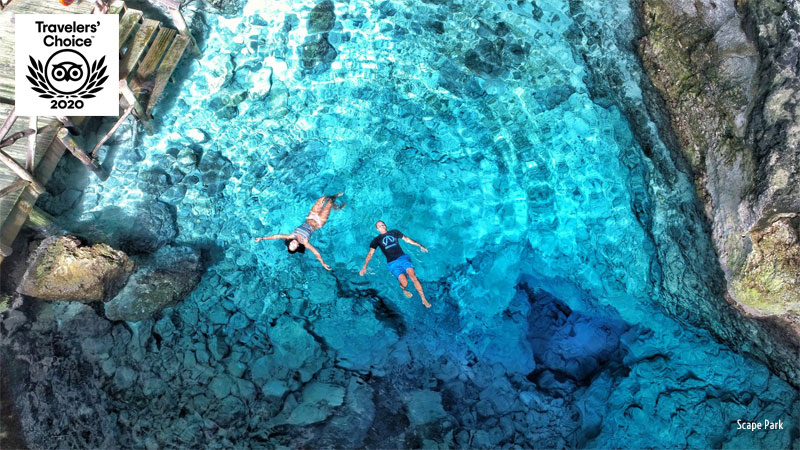 We know you'll need some convincing to get away from the beaches, but you simply can't miss visiting at least one of the cenotes or lagoons in the Punta Cana region, just the mere sight will take your breath away.  On a hot summer day, the cenotes and lagoons offer the most refreshing cool water in the region.   These magical bodies of water are inside Cap Cana and Punta Cana Resort & Club, you may visit the cenotes and lagoons on a tour offered by a private charter or purchase a day pass at the resorts.
Go Ziplining over Lush Green Canopies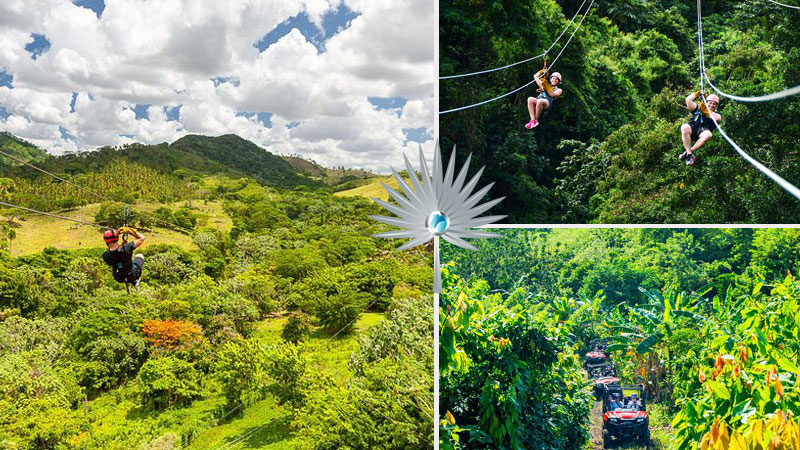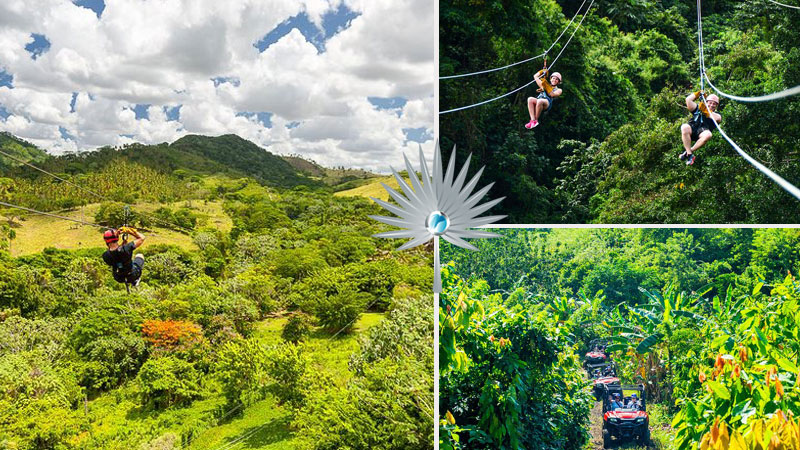 We know you love the blue side of Punta Cana, if you head inland we think you may like the green side too… where you can zip across lush green canopies under blue skies.  If ziplining is on your bucket list, Punta Cana is a great place to do it.   After a hard 2020 where many of us were spending much of our time indoors, ziplining is a great way to feel freedom immersing our senses in the beauty of nature.
Go Horseback Riding on the Beach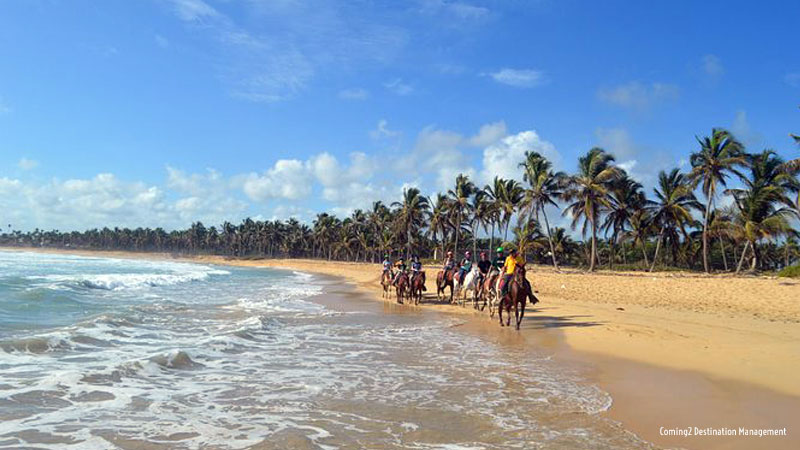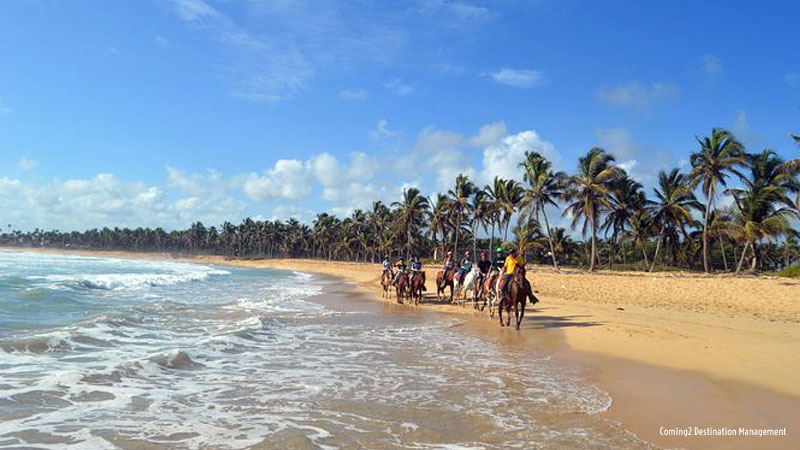 Punta Cana is known for its beachfront resort communities and fun activities on the water, but if you head to the northeast side you'll get to experience the more natural quiet side.  One of the best, romantic, and relaxing ways to enjoy Punta Cana's rugged undeveloped beaches is by taking a horseback ride, for an extra special touch, book a tour at sunset.  Whether you're on a romantic honeymoon, a family vacation with kids, or traveling with a group of friends, this may be a wonderful experience to remember.  Most horseback riding tours take place on the palm-lined Uvero Alto Beach.