Punta Cana Dominican Republic ⎜ Punta Cana Beaches ⎜ Bavaro Beach, Punta Cana
Consistently Ranked Among the Best in the World & The Caribbean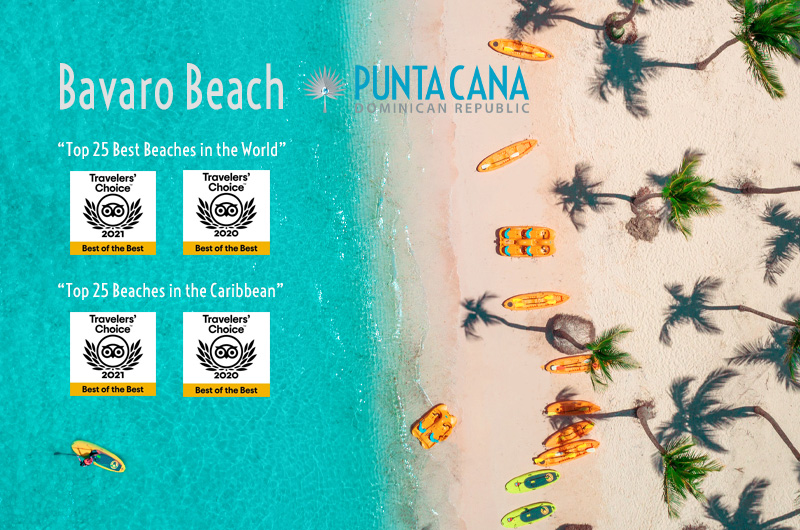 We love Bavaro Beach, and so does the rest of the world…
– #19 – 2020, 2021 – "Top 25 Best Beaches in the World", tens of thousands of travelers like you reviewed their experience, placing it on TripAdvisor's Traveler's Choice Best of the Best Award.
– #8 – 2020, 2021 – "Top 25 Beaches in The Caribbean", a second TripAdvisor's Traveler's Choice Best of the Best Award.
Bavaro Beach… A Caribbean Playground… All-Inclusive Fun under the Sun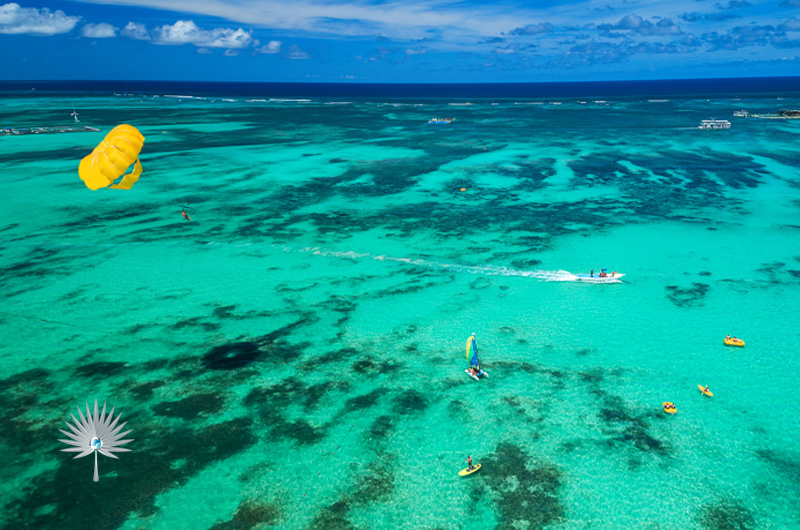 Bavaro Beach is a fun, lively, and playful Caribbean Playground… making it one of the most attractive beaches in the Caribbean.  Bavaro offers a plethora of water activities and wanders underneath the turquoise and emerald green waters.  All-Inclusive Resorts in Punta Cana are famous for keeping guests entertained with plenty of activities, but be sure to book one of the many top-rated catamaran trips to the natural pools of Bavaro and nearby secluded beaches to experience the more natural side of Bavaro.  The are catamaran trips ranging from romantic sunset cruises to adults-only party boats to family-friendly snorkeling adventures for the kids to enjoy.  Parasailing is a popular activity and a wonderful way to take in the beauty of the coastline.  You may be tempted to eat all your meals at your all-inclusive resort, but there are many wonderful beachfront restaurants and bars you may wish to try along Bavaro Beach.  If you like taking long walks on the beach you'll have miles of white sand and coconut palm-fringed coastline to explore.
Bavaro Beach…
Home to Some of the Best Rated All-Inclusive Beachfront Resorts in the Caribbean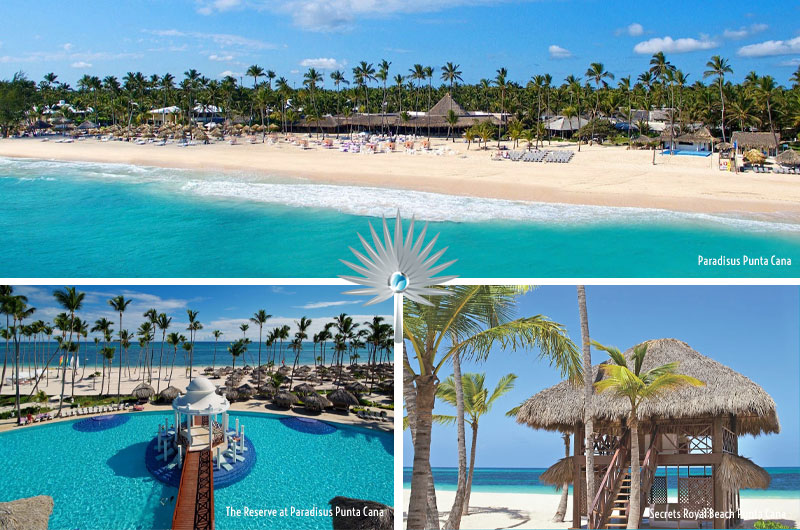 Bavaro Beach, the longest beach in Punta Cana, welcomes the highest number of visitors in the tourist region.  Bavaro Beach boasts beautiful clear turquoise water where some of the most popular all-inclusive resorts are located in the Punta Cana region.
Bavaro Beach has an amazing selection of top-rated resorts, small inns, and vacation rentals all competing working hard to offer the best for their guests.  In Bavaro Beach, you can choose from all-inclusive luxury resorts to budget-friendly without sacrificing quality, service, and fun.  Following we present top-rated resorts on Bavaro Beach, Punta Cana.
Before you find YOUR perfect All Inclusive Resort, allow us to share with you some of the reasons Bavaro is so loved around the world.  
Crowds at Bavaro Beach – Fun with Plenty of Room for Relaxation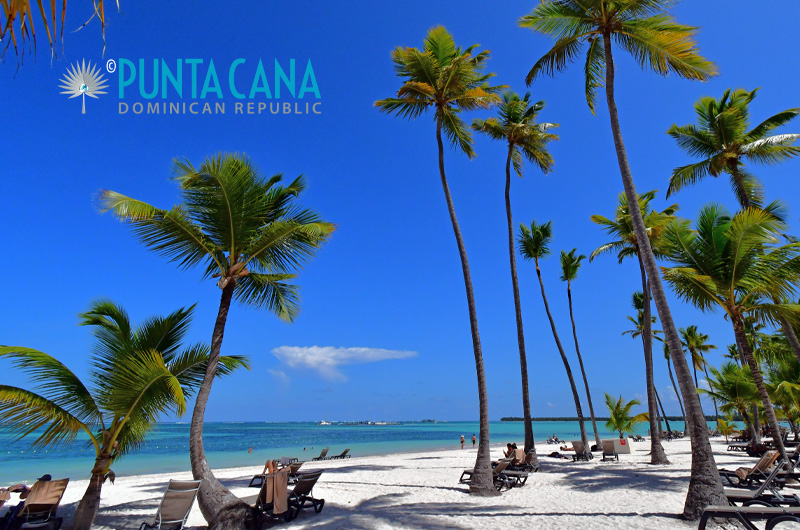 Prefer a more peaceful ambiance? No worries, although Bavaro is one of the most visited beaches, the length and landscape allow for relaxation.
Read more...
Guests typically enjoy lounging by their beach area at the resort, so even in the high season the beach feel doesn't feel crowded, you'll find plenty of palm trees and palapa umbrellas to call your own and share with your travel party.  Locals are pretty respectful of the beach area on the resorts, they tend to go to Macao Beach or stay around the entrance of the public access points, so although Bavaro is a very popular beach, guests at the resorts get to also experience an exclusive feeling, while having access to interesting points by simply walking along the beach.
Location & Public Access - Bavaro Beach
Punta Cana, La Altagracia, Dominican Republic
Where is Bavaro Beach?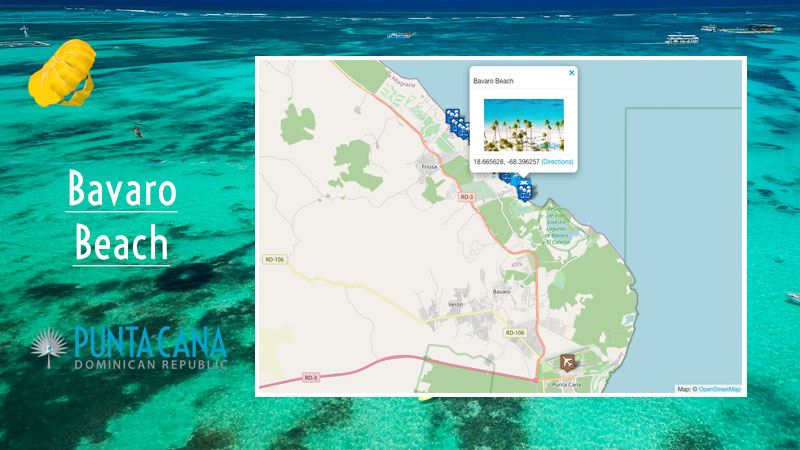 Bavaro Beach is about a 20-minute drive from the Punta Cana International Airport (PJU), stretching from Cabeza del Toro Beach to Arena Gorda Beach.  Most of the access to Bavaro is through the resort properties but beachgoers can enter through various plazas (shopping areas), beachfront restaurants, and villages.  You'll find these access points on the map, they're often referred to as their own beaches such as El Cortesito, Los Corales, Jellyfish, and Bibijagua, continue reading below for more information on each of these.
Read more...
Interestingly, if you were to walk the whole length of Bavaro, you'll find unique qualities to these locations, repeat Punta Cana travelers typically have a favorite Bavaro area depending on their personal preferences.
To get acquainted with Bavaro Beach location, beachfront resorts, and public beach access points, see the map at end of the page or full-page map (new window).
El Cortesito – Bavaro Beach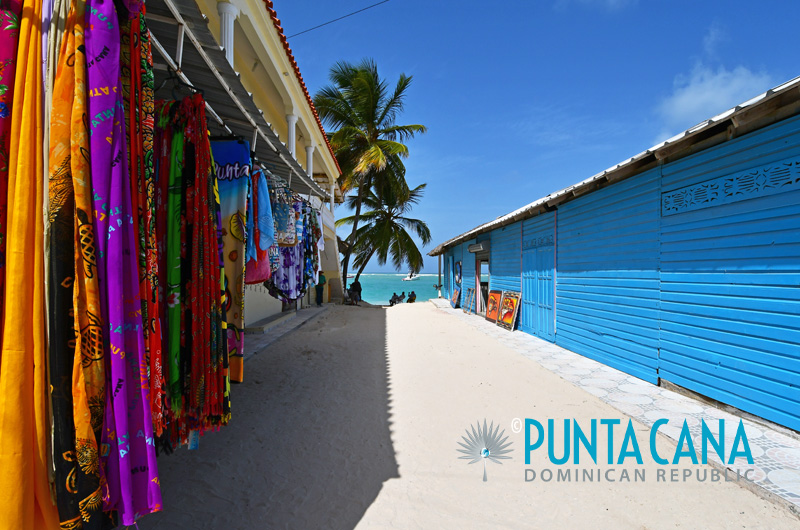 El Cortesito is the most picturesque beachside village in Bavaro, with a large ex-pat residential community nearby and repeat visitors that love the island life by the beach with a lively atmosphere.  Various all-inclusive resorts, small inns, and vacation rentals spoil guests with the best beach access, but if you're visiting for the day, you can gain access through various beachside bars and colorful alleys with shops that lead to the paradisiac Bavaro Beach.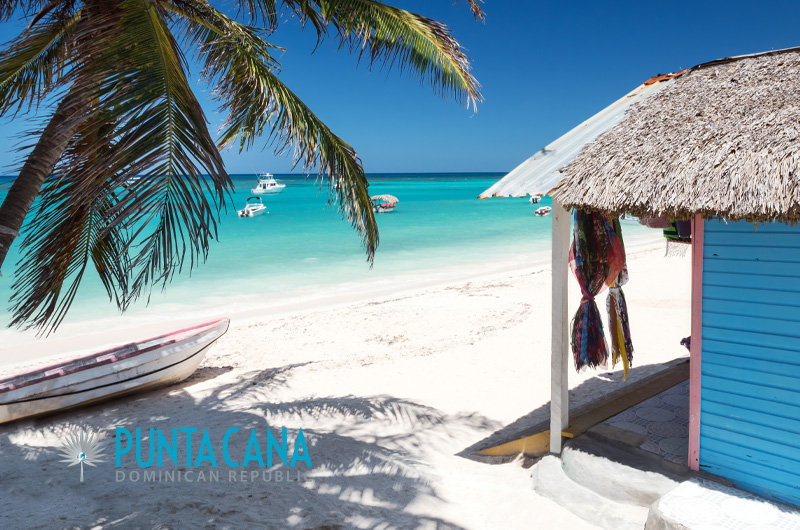 There's parking available, locals typically charge $5 at their private lot.  Walking around the colorful village is a favorite pastime with various souvenir shops, beach clothing shops, traditional wood carvings artworks, and more.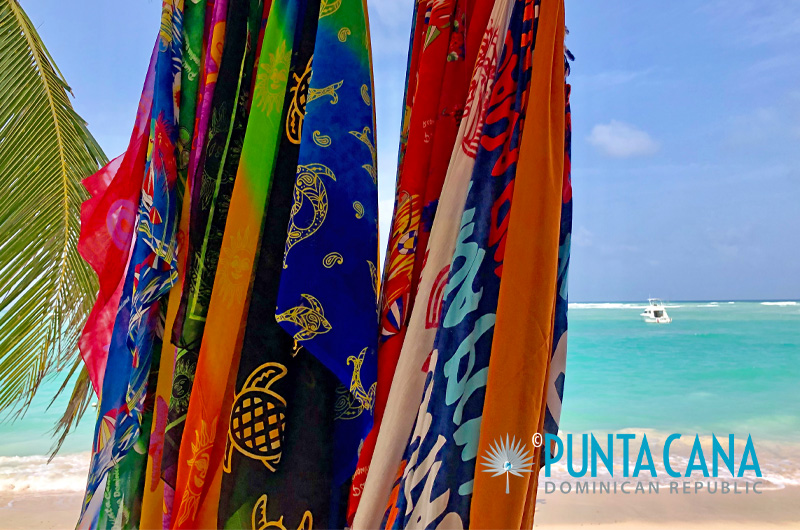 Once at the beach, you can enjoy a nice walk, stop by beachside shops, refresh with delicious tropical drinks, choose from a variety of water sport activities, and of course just chill under the Caribbean Sun.
Bibijagua – Bavaro Beach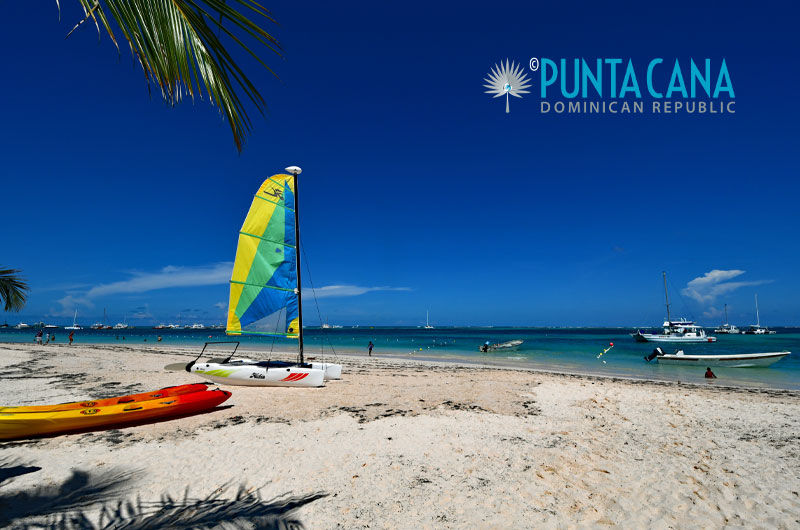 Bibijagua Beach offers excellent access to Bavaro Beach and is one of the most convenient public beach spots in Punta Cana, with a private parking lot.  Playa Bibijagua is perfect for those that want an active day on the beach surrounded by music, happy people, great food and drinks, shopping, and mingling with locals.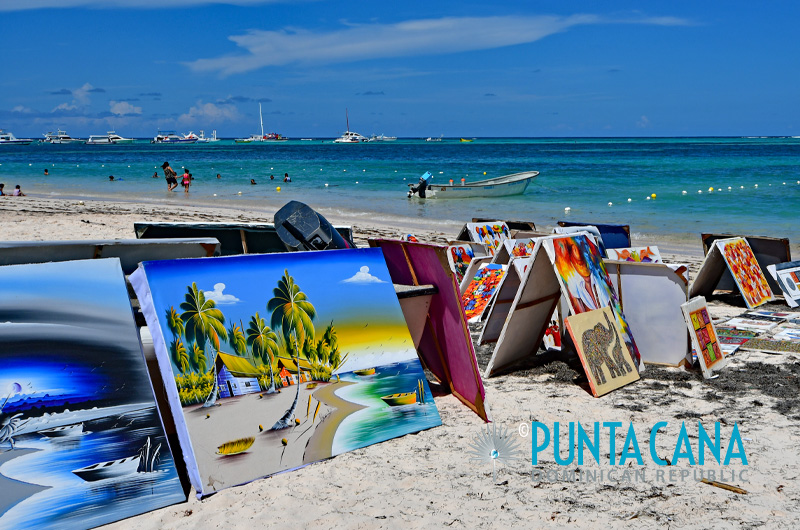 At the entry of Bibijagua, you'll pass the Bibijagua artisan market, a popular shopping stop for tourists with a wide variety of traditional Dominican artisan crafts.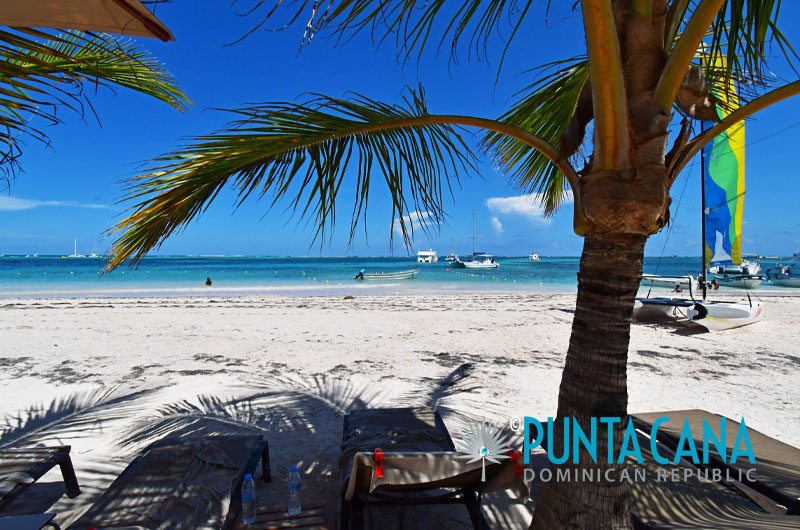 The beach is more mellow during the week and busy on weekends.  If you wish to have fun on the water, you can find a variety of rentals from kayaks to Hobie Cats.  Many tour operators leave from this beach making it an ideal location to have a day at the beach with as little or as many activities as your heart desires.
Los Corales – Bavaro Beach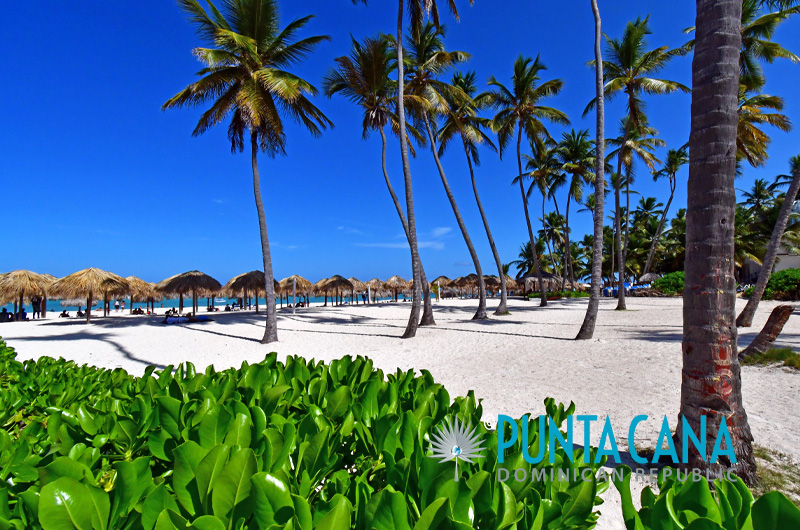 Los Corales is part of the Bavaro beach stretch, home to luxurious all-inclusive beachfront resorts, and private villas.  Los Corales is a fun beach with plenty of watersports, beach bars, restaurants, and local shops.   Like the rest of the villages along Bavaro, Los Corales is home to various charters offering a variety of watersports and offshore adventures from party boats to more private excursions.  There are various restaurants that offer lounge chairs for the use of their customers.  Los Corales Beach is just a five-minute walk to center Bavaro and a short walk to Cortesito Beach where you can shop for souvenirs made by local artisans, visit cigar shops, and more.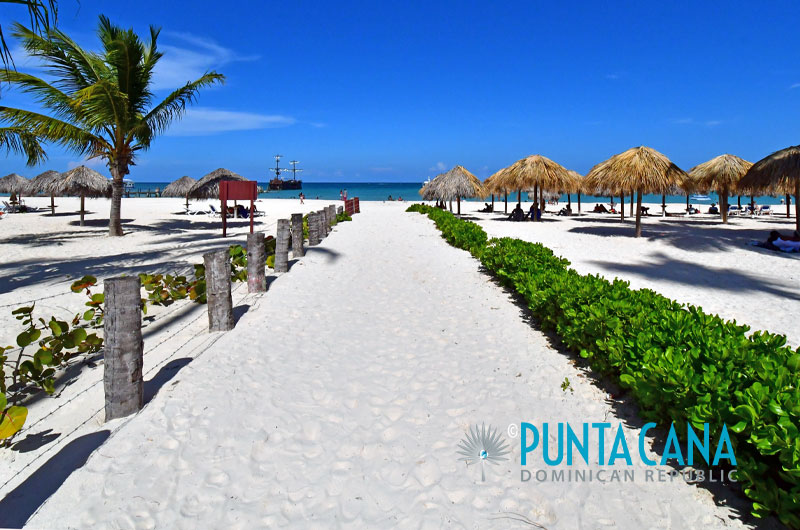 Top Rated Tours - Bavaro Beach
Punta Cana, Dominican Republic
Top Rated Resorts in Bavaro Beach
Punta Cana, Dominican Republic
Map - Bavaro Beach & Beachfront Resorts
Punta Cana, Dominican Republic
Frequently Asked Questions about Bavaro Beach
La Altagracia, Punta Cana, Dominican Republic
How far is Bavaro Beach from the Punta Cana International Airport (PJU)?
The distance between Punta Cana Airport and Bavaro Beach is about 17 kilometers.  The driving distance to Bavaro Beach is about a 20-minute drive from the Punta Cana Airport.
Is Bavaro a Public Beach?
Beach at Bavaro's All-Inclusive Resorts – Guests of beachfront resorts are spoiled with having a feel of a private beach experience at their resort and security employees keep an eye to make sure only guests are within the property limits.
Dominican Republic Beach Laws – According to the law in the Dominican Republic law, 60 meters from the water is public.  Locals are pretty good at respecting resort areas, security guards guard the privacy of guests within the resort.  This is good news for visitors, allowing for long walks on the beach.
Public Access – The best and most accessible Bavaro Beach points are Bibijagua, Cortesito, Corales, and Jellyfish, see map.
Where are the public access points to Bavaro Beach?
The best and most accessible Bavaro Beach points are Bibijagua, Cortesito, Corales, and Jellyfish, see map.
Can you swim at Bavaro Beach ?
Yes, under normal weather conditions the waters at Bavaro Beach are swimmable.  To protect swimmers from boats, there are roped-off areas for swimmers at Bavaro Beach.